LEGO is more than just bricks, sets with instructions to follow, or playthings. LEGO is art. If you're more inclined to stray from the instructions and build from the top of the dome, then you have to take a look at Sean Kenney's incredible work.
About Sean Kenney
Sean Kenney is a world-famous, award-winning artist who designs and constructs spectacular and unique contemporary sculptures out of LEGO pieces. Sean has continued his imaginative work for over 10 years and even has multiple award-winning traveling exhibitions all around the world. Among his many LEGO-inspired accomplishments, Sean also has authored 9 LEGO children's books. Funnily enough, he is not employed by The LEGO Group, and is not paid or sponsored by them in any way, shape, or form.
Interesting fact: in 2005, The LEGO Group officially offered Sean his own bulk purchase account. This incident actually was the first of its kind, making Sean Kenney the first person in the entire world whom The LEGO Group allotted this kind of account.
Sean Kenney's Best Work
Sean's incredibly stacked portfolio boasts an array of LEGO portraits, architecture, life-sized animals, and all sorts of amazing ideas.
Sean's Custom Portaits
On Sean's website http://seankenney.com, he offers customers custom LEGO portraits. For a set price, you can send Sean a photo, then choose from 3 different sizes (small, medium, or large), and he will recreate your memorable photo out of just LEGO bricks. As advertised, his portraits are all hand-drawn without computer generation software, completely glued, and mounted on wood for added stability. These portraits really turn out great and they also look fantastic hung up on a wall. Now this idea is one to remember.
Nintendo DSi
Sean's Nintendo DSi is definitely a LEGO moc to behold. Not only does Sean replicate Nintendo's widely-popular, portable gaming console out of just LEGO bricks, but he does so to scale. Meaning, he constructed a 7-feet wide, 51,324-piece, >250-pound, behemoth-scale model of the hand-held gaming device. The fun, mostly blue sculpture took Sean over 200 hours to create and landed on display at the Nintendo World Store at New York City's very own Rockefeller Center.
Polar Bear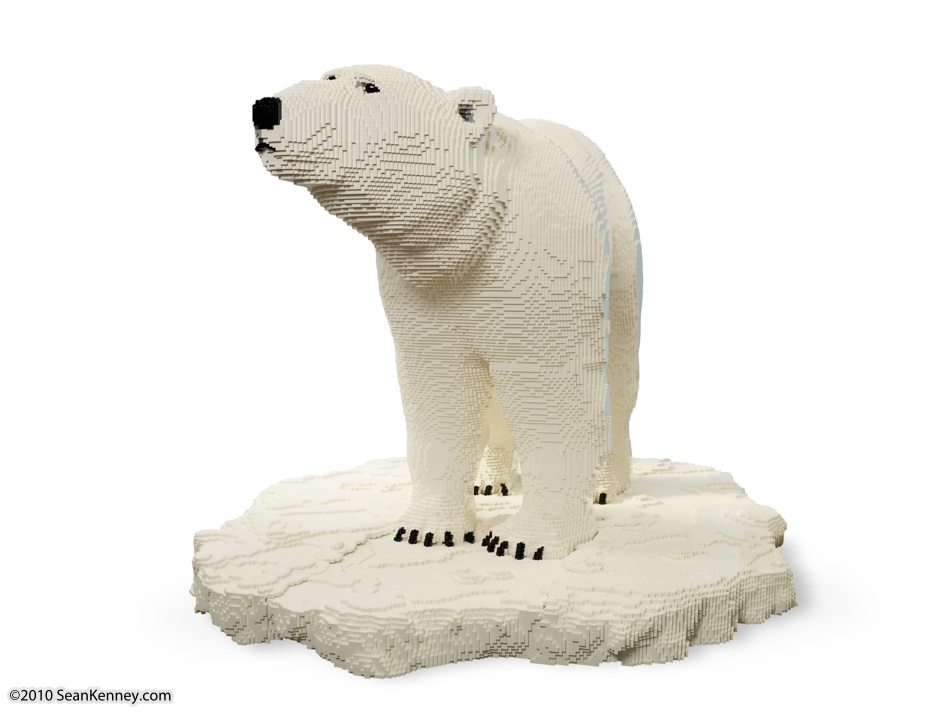 Being composed of mostly white LEGO bricks, as you may have guessed, you would think that this life-sized Polar Bear was more on the easier side for award-winning Sean to build. However, if you believed that then you'd be wrong. Interestingly enough, Sean considers this piece to be one of his "most visually complex" sculptures. He poured 1,100 hours into the construction and design of this sizeable sculpture. It's composed of over 95,000 LEGO pieces and was displayed at the Philadelphia Zoo for several months.
Nature Connects Sean Kennedy's Solo Exhibit
Nature Connects is Sean's very own award-winning, and record-breaking exhibit. It tours all over the world, across North America, Asia, and Europe. The show showcases hundreds of sculptures and was constructed from over 3 million LEGO pieces. The exhibit has tons of grand animal, plant, human, and all sorts of sculptures on display; such as panda bears playing, ceiling-high rose stems, and even giant mocking birds with tulip. It's truly incredible, and it's Sean's artistic expression on topics including; animal endangerment, ecosystems, and nature. He wanted to show his visitors that everything in nature is connected, just like how LEGO's multitude of bricks interconnect with one another. If you see Sean Kennedy's exhibit rolling into your area, don't hesitate to buy a ticket!
Conclusion
Overall, Sean Kenney is an unbelievable LEGO artist and builder with more than just vanity in mind. His work inspires and even educates many all over the world. Not only the LEGO community, but the entire world is looking forward to what this astounding talent has in store next.
Summary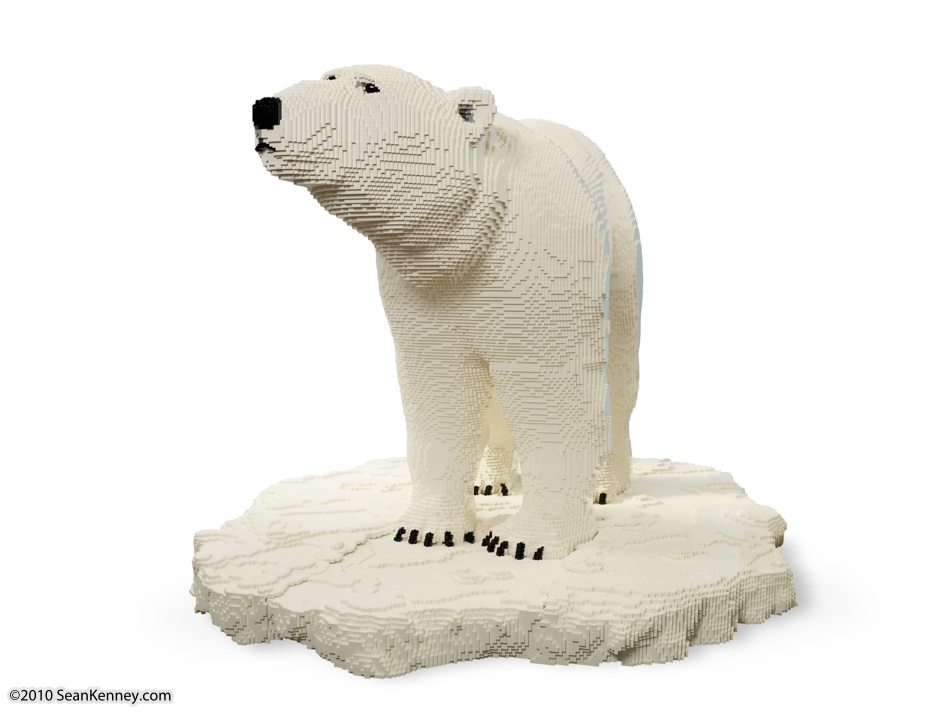 Article Name
Sean Kenney and The Art of LEGO Bricks - Brick Pals
Description
Sean Kenney is a world-famous, award-winning artist who designs and constructs spectacular and unique contemporary sculptures out of LEGO pieces. Learn more!
Author
Publisher Name
Publisher Logo