In 1995, a little known animation called Pixar made history with their first film, Toy Story. The first film made using only computer-animation; Toy Story turned Pixar into a household name. Almost twenty-four years later, that film has grown into a multi-film franchise close to Pixar's heart.
Not limited to the big screen, Toy Story has spun off into other forms of storytelling. From holiday specials and shorts to a Buzz Lightyear spin-off, Toy Story is still going strong. Given what the franchise is about, it was only a matter of time before the cast was made into real life toys, including LEGO.
In 2010, to help promote the upcoming film Toy Story 3, LEGO released a line of Toy Story sets. Based on the three films and their expanded universe, there were twenty different sets that spanned regular LEGO and Duplo. The sets ended production the same year, but with Toy Story 4 due in November, LEGO has decided to restart the theme. Before that happens, though, this guide will cover all the good and bad of the sets past to help you find some of the best! We will also update this guide when the LEGO Toy Story 4 sets are confirmed. Enjoy!
Please note that we have included links to eBay as we have found this to be one of the most economical ways of purchasing the sets. Due to the sets being retired by LEGO and therefore limited quantities available, you will often find other outlets have significantly higher prices.
Woody and Buzz to the Rescue (7590)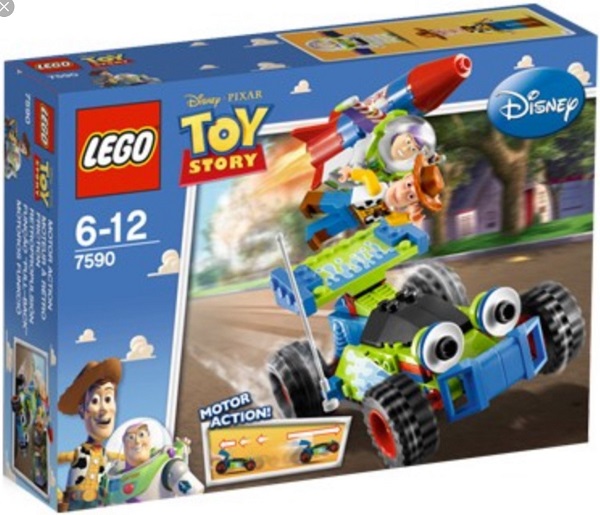 What is the scene from the original Toy Story that people are most likely to remember off the top of their heads? It would most likely be the climax of the movie where Woody and Buzz try to catch up with Andy's moving truck. They ride RC as fast as they can, only for his batteries to die on them. Then Woody uses the rocket on Buzz's back sending them flying into the sky. Then they actually fly through the air into Andy's car! What a sight!
Now, recreate that famous scene with this 92-piece LEGO Toy Story set. It has everything from the movie: RC, Woody and Buzz Lightyear, and the rocket known as "The Big One". For added interest, RC has a pushback motor. Wind him back on the floor, then let go and watch him zoom on the ground as fast as possible.
This set is a faithful recreation of the climax of the film that started it all. Unfortunately, it is also very, very small at only 92 pieces. That is not a lot for a kid to work with, so there is only so much they can do with this set alone. Even so, the resources at our disposal do not limit imagination.
Construct-A-Buzz (7592)
To infinity…and beyond! That iconic catchphrase of Buzz Lightyear has since entered the annals of pop culture. With the help of LEGO, the famous and fearless Space Ranger is reborn in LEGO form!
Released in 2010 and consisting of 205 pieces, this LEGO remake of Buzz stands at 8 inches tall. Almost everything about Buzz is remade into LEGO form. From his wrist-mounted laser to all the stickers on his spacesuit, it is all there.
The set itself is interesting in its design. The main body's made out of traditional LEGO's and is built like such. To allow for movement and posability, though, each section of the figure connects using TECHNIC figures. The arms and legs connect to the torso using ball-joint articulation pieces. For extra immersion, the torso contains a swivel for the head to be placed on, allowing it to rotate 360 degrees.
The helmet is very easy to build. It consists of two plastic domes that can be snapped together, and then attached on the body like normal. Since it attaches on a joint, the helmet can open and close as if a real space helmet would.
To further add to his reputation as a Space Ranger, Buzz's left arm comes equipped with his famous "laser that's a lightbulb". In this case, though, the lightbulb is a colorful dart made out of LEGO pieces that a kid can then launch. On the back, his wings can be put away when they are not needed, and opened up when it is time to fly. At over 7 inches long, these wings will take Buzz anywhere to fight the evil Zurg!
Finally yet importantly, Buzz is not alone in the fight against Zurg. Standing by his side is another famous Toy Story character, the Little Green Men. He is ready to help Buzz in the fight against evil, for Buzz saved his life, and he is eternally grateful.
This LEGO Toy Story set is an impressive recreation of the famous Buzz Lightyear. It has every feature found on Buzz's sleek spacesuit in the movies, and the movable limbs can let a kid create all kinds of adventures. The Little Green Man is one of the most famous characters in Toy Story, and is part of the same lore of Buzz Lightyear's toy line; so, adding the LGM in makes sense.
It does have its downsides, though. For one thing, the legs are almost made from ordinary LEGO's, which are more likely to fall apart than TECHNIC's. It may be trying to recreate the bulkiness of a real spacesuit, but it is still an unfortunate missed chance. Another problem is the cosmetics: all the buttons and symbols are stickers. If you have tried putting stickers on a LEGO set, then you know it is hard. The designs could have been painted onto the bricks themselves, saving people the time. A steady hand and a set of tweezers can counter this problem, though. In the end, an imaginative kid would have little issue with any problems.
Construct-a-Zurg (7591)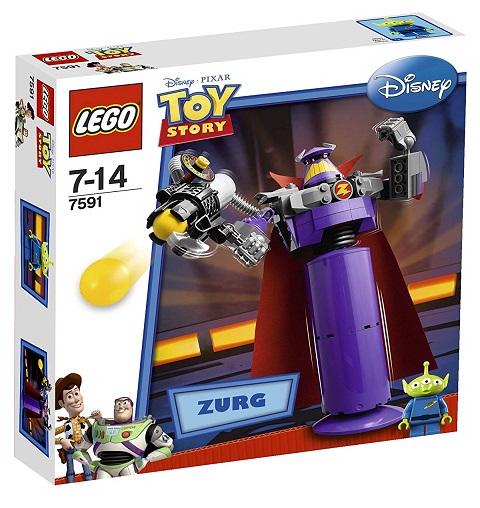 Look out; it is Buzz Lightyear's feared arch-nemesis, the evil Emperor Zurg! Another LEGO-based action figure, the galactic conqueror is remade in all his dark and purple glory. At 118 pieces, he may have half the pieces that Buzz has, but at 9″ tall, he can look down on the Space Ranger. In addition, his Little Green Friend, too!
Zurg is an odd action figure, considering that most of his appearance is a pillar made out of LEGO's. From the waist up, though, it is another story. Using an intricate combination of regular LEGO bricks and TECHNIC-based pieces, Zurg's menacing waist is built for all to tremble before! Better still, his waist can rotate a full 360 degrees. A kid can spin him around so they mess with his cape.
Zurg never goes anywhere unarmed, though. He has his giant cannon that shoots balls of energy at those who displease them. Especially if they are green and stand for all that is good. That is referring to both Buzz and the LGM that comes with the set.
This LEGO Toy Story set may look cool, but it also repeats the Buzz Lightyear set's mistake: lack of poseable joints. It does not even have legs to move around. Outside of the arms and waist, this set has nothing to offer in posing. Then again, the real Zurg toy looks like it did not offer that much, either, so it has that in common. In addition, it has the exported blaster from Bionicle, so that is cool.
Buzz's Star Command Spaceship (7593)
Anyone who saw Toy Story 2 will remember that epic opening to the film. Buzz is rocketing through deep space and launches a one-man assault on Zurg's fortress. He came close to beating him, only to meet his end… and we find out it was all a video game. Now, recreate Buzz's adventures in outer space with his Star Command Spaceship!
At over 257 pieces and 7″ long, Buzz's starship looks like it can hold its own in any dogfight. It bears the signature colors and stripes of Star Command with pride on its wings, equipped with lasers! Open up the cockpit and place Buzz inside, as he gets ready for interstellar patrol.
The surprises do not end there, though. The back of the ship can be folded open to make way for a landing platform. From there, launch Buzz's trusty moon buggy so he can explore planets in search of Zurg.
Aside from the obvious Buzz Lightyear minifigure, the set also comes with a Zurg minifigure, and he packs heat. Complete with a mini blaster, kids can fire his energy spheres of doom at the heroic Space Ranger. The battle begins.
This LEGO Toy Story set looks like it could rival one of the smaller vehicle sets found in the Star Wars theme. It has enough pieces and allows for creativity from kids. With the ability to open its back, someone could fit anything of the right size inside the cargo hold, allowing them to create their own adventures.
The sad thing is, the more pieces that a set requires, the easier it can be to fall apart. That does not really help with the fact that it is meant for playtime, which implies running around and breaking stuff. It is still cool to look at, though.
Woody's Roundup! (7594)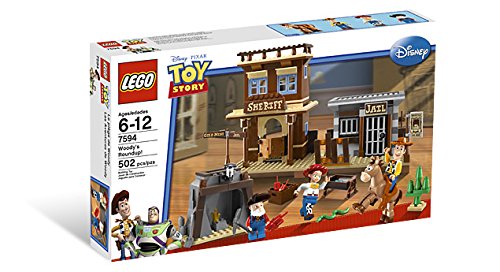 Cowboy Crunchies and LEGO are proud to present this LEGO remake of Woody's Roundup! A fictional puppet show within the world of Toy Story, Woody's Roundup was a popular show in the 1950s. Sadly, the dawn of the Space Race led to the show being prematurely cancelled. Now the show within the film gets the LEGO treatment!
At over 502 pieces and measurements of 11″x8″x4″, this is a big set. It includes a sheriff's office, jail, and goldmine, plus a bunch of decorations and props. Much of the buildings themselves can are interactable in some way. The jailhouse includes a wheel to eject the back of the wall open, along with a boardwalk catapult. Why a catapult? It has to trap Stinky Pete.
While he was a bumbling fool in the show, in the film Stinky Pete is a mean old toy who wants spend eternity in a glass shelf in a museum. In this set, his villainous nature is reflected as he tries to rob a bank and likely trapped Jessie in the mine. Kids can put him back in his place where he belongs.
As said before, this is a good LEGO Toy Story set to own. It's a decent size compared to other sets in the theme, which leaves room for a lot of creativity. At the very least, it would make for a great display in a collection. It also helps to build on the fictional show established in the films, which is always a good thing for franchises to do.
The one downside that there is to this set is something that is the bane of many LEGO sets: stickers. All the writing and pictures are in sticker form, so that can be a pain. A good set of tweezers and a steady hand will be able to fix that problem, though. Now, ride like the wind, Bullseye!
Army Men on Patrol (7595)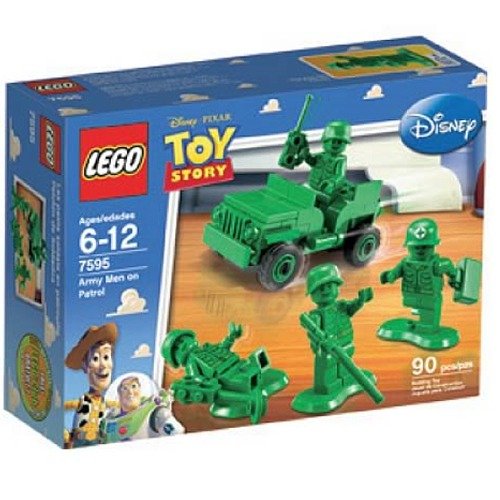 Whenever there is trouble, you send in the best team of soldiers that you got. For the toy residents of Andy's bedroom, it is the green Army Men! This tiny plastic company of soldiers is fearless and will go anywhere to finish their job. Led by their fearless Sarge, voiced by the late R Lee Emery, they will never leave a man, or toy, behind! Whether they are the classic plastic soldiers or in LEGO form, they will fight from the sandbox to the hallways!
Having been remade in LEGO form, the Green Army Men set is a small, but faithful, recreation of a classic toy. Each of the Army Men is painted in nothing but green, right down to their stands. Actually, almost everything in this set is green.
LEGO decided to break with the movie a little bit and added something new: a green jeep! Now those soldiers can carry all their equipment and make it around the house in record time. If one of them is injured, load them into the stretcher and prepare for evac.
This set is a small one, at only 90 pieces. There is not a lot for someone to work with here, but there is not much to work with normal plastic soldiers. A kid with an active imagination can find a way to get hours of fun out of these four soldiers, just as Andy would do.
Trash Compactor Escape (7596)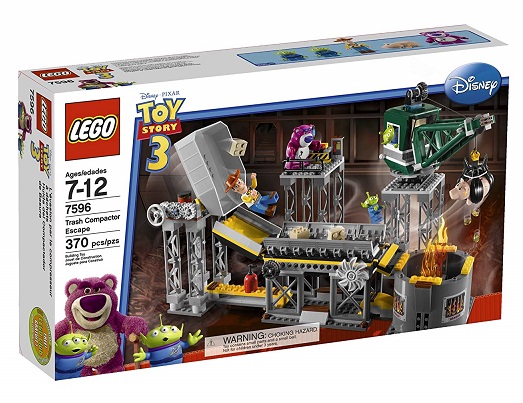 Who knew Stinky Pete was almost right when he said Andy's toys would end up in a landfill or incinerator? At the climax of Toy Story 3, Andy's toys almost met their end thanks to the bitter and vengeful toy Lotso. However, since this is a Pixar movie, it never has a sad ending. A sad middle or even beginning, but never a sad ending. Thanks to the intervention of the LGM's, the lives of Andy's toys are saved, and they are eternally grateful for it. Now recreate that rescue with the Trash Compactor Escape set.
This is one of the more complex sets in the Toy Story LEGO theme, as it has a fair amount of moving parts in its design. The dumpster and conveyor belt are both connected to a set of gears that a person can turn to create movement. This lets them move our heroes, or any other minifigures, to the incinerator.
The crane is also movable. Placed on a spinning base to allow for 360-degree turns, there is also a gear connected to a string to raise and lower the claw. The claw decides who will stay and who will go, and can rescue the toys.
Speaking of the toys, there are five minifigures in this set: Woody, Lotso, the three LGM's, and Hamm. To reflect the environment they are in, they all have dirt and grime painted onto their bodies. They even went the extra mile for Hamm by adding a stud cork and little LEGO coins to put in him.
This is an impressive LEGO Toy Story set to look at. At more than 370 pieces, it stands 8″ high and 16″ long. This can be against its durability, though, as bigger sets can fall apart. In addition, that claw attaches to the crane using string. That is something that can get broken very easily. This set will need careful handling to keep it from breaking.
Western Train Chase (7597)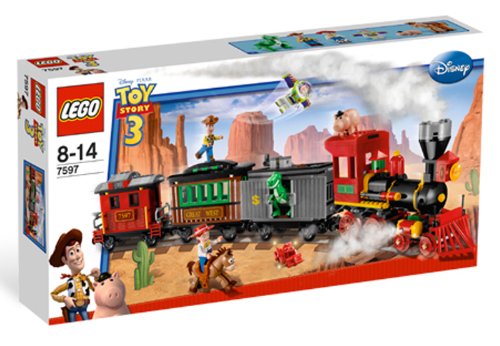 From the opening scene of Toy Story 3, it is the train chase! The Evil Dr. Porkchop has captured Rex on a runaway train on a car filled with dynamite. It is up Jessie, Bullseye, Woody, and Buzz to save him! As Woody faces off against Dr. Porkchop for a high noon showdown, Jessie and Bullseye run in to save Rex while Buzz provides air support. Will they be able to save their friend in time?
This set deviates a little bit from the movie by not including the LGM's or Mr. and Mrs. Potatohead, but it makes up for it with its other characters. It has Jessie, Bullseye, Woody, Buzz, Rex, and Hamm/Evil Dr. Porkchop. Hamm has an exclusive accessory in the form of his evil bowler hat that attaches to his head through a pin. Because bowler hats are classic villain attire!
The big draw here, though, is the train itself. It is more than 4″ high and 23″ long, separated into the engine and four separate cars. The train features movable wheels, adding to the sense of realism. The car doors even open, and connect using magnetic bricks. Befitting Dr. Porkchop, it is also rigged with trap doors on the roof.
This looks like a fun LEGO Toy Story set to have, though the length of the train may make it hard to move at times. That is expected, though, so it should not be too much of a problem. It also does not detract from the fun to be had from this set.
Pizza Planet Truck Rescue (7598)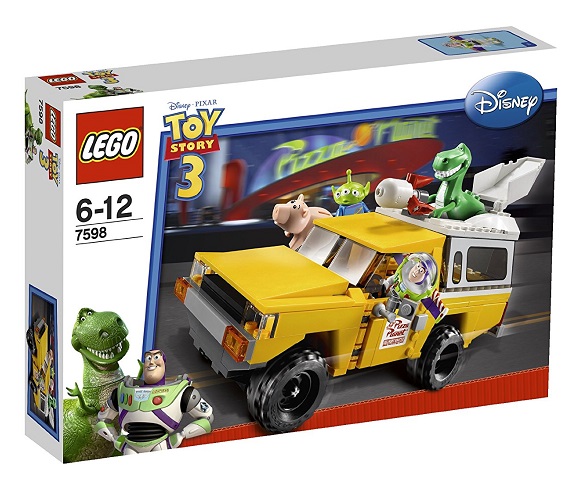 Pizza anyone? Straight from the set of Toy Story 2, it is the Pizza Planet delivery truck. After Al took Woody, Jessie, Bullseye, and Stinky Pete with him to the airport, Buzz's team needed a ride. Therefore, they stole a pizza truck to follow him to the airport. They also met the three LGM's and took them with them.
This set may not have Mr. Potatohead and Slinky because of copyrights. It does, though, have Buzz, an LGM, Hamm, and Rex. Then there is the Pizza Planet truck, a vehicle that has made cameos in several other Pixar films. It comes complete with its trademark rocket on the roof, but there is more. Under the hood, it has got a pizza flinger ready to launch delicious pizzas at traffic.
At 8″ long, 4" high, and 225 pieces, this is a big truck. Granted, some of the minifigures might have a hard time standing in one place, but that does not change anything. Pizza Planet is part of the Toy Story and Pixar experience, and should not be forgotten.
Garbage Truck Getaway (7599)
The dump truck is every toys worst nightmare. It symbolizes a one-way trip to a landfill where they will rot, forgotten and unloved. Near the climax of Toy Story 3, Woody, Buzz, and Andy's toys nearly escaped Sunnyside before Lotso and his minions cornered them. Despite Lotso being overthrown, Andy's toys still got inside the dumpster. Thankfully, they were saved and made it to Andy's house.
Recreate the intense standoff with this dump truck set. It features dirty variants of Lotso, Buzz, Jessie, and Lotso's minion Twitch. At 404 pieces, the Garbage Truck is 8.5″ long and 5″ high and comes with an opening door. Open it up as it carries the dumpster and send Lotso to where he belongs.
The one downside to this LEGO Toy Story set is its lack of availability. It was only released as an exclusive to Toys R Us, which means not as many will be available online. Especially now that Toys R Us is belly up with an uncertain future. Better, get them while they are still up for grabs online.
Lotso's Dump Truck (7789)
Welcome to Sunnyside Daycare, where all toys are welcome. Being donated to Sunnyside is the best thing a toy could hope for, and is very not a toy prison run by an evil bear. Speaking of bears, here comes Lotso, Chunk, and Stretch on their Dump Truck!
At 5.5″ long and 3.5″ tall, this 129-piece truck is a lot smaller than the one in Toy Story 3. It does have all the same features as any toy truck, though; you can tip it over like a normal one. In addition, it comes with its own driver! There is room for Lotso, Chunk, and Stretch to sit in the back, though.
Promotional Polybag Sets
To help promote the upcoming Toy Story 3, in 2010, these polybag sets were released for a brief period. The way they were released to the public varied between countries, though, with some being exclusive to one country.
First, we have the Green Alien on Spaceship that came out in April 2010. It was a 29-piece miniature spaceship built to carry an LGM. People could get it different ways. In France, it came with a 20 Euro sale of Toy Story LEGO. In the UK, it came with the sale of Tesco fun size fruit. People in Australia could buy with any LEGO Toy Story purchase at ToyWorld, and it could be bought at a Toys'R'Us in America.
Next, we have the Army Jeep. Like the "Army Men on Patrol" set, this one focuses on the Green Army Men. Or rather, Green Army Man, in this case, since there's only one. Equipped with a jeep and walkie-talkie, this 32-piece set was another promotional toy. It was exclusive to Target in the US, and free for any sale exceeding 30 pounds in the UK.
Next is Woody's Camp Out. Woody is in his genre element of the old west, with a nice fire going. This 18-piece bag has a log bench, lantern and campfire, and a pan for cooking sausage, plus a snake. It was an exclusive release with the UK Daily Mirror newspaper on July 17, 2010.
Following up with that the next day, the Daily Mirror released another promotional set: Buzz's Mini Ship. This 27-piece gift was an open-air spaceship complete with the Star Command logo, all for Buzz Lightyear.
There are two main drawbacks to these sets: their size and their availability. These were all sold as promotional products for Toy Story 3, with some available only through specific means. That means that they can be hard to find on the Internet. Second, they are not big sets, so there is not much kids can do with them.
DUPLO Sets
LEGO did not stop with their normal brands: they made Toy Story sets for DUPLO as well. Given how DUPLO is for younger kids, and Toy Story targets kids, that makes a lot of sense.
Jessie's Round Up (5657)
Howdy there, folks! It is Jessie the yodeling cowgirl and her faithful friend Bullseye. They have come to DUPLO for their first appearance!
This is a DUPLO LEGO Toy Story set, so it is not going to be for older kids or have that many pieces. It actually only has 18 pieces in total. Like any good DUPLO set, the bricks and characters are all giant and sturdy to survive playtime with little kids. Jessie and Bullseye are the stars of the show, standing at 2″ and 3″ tall, each. The Sheriff's office has a colorful sign, a chair, and table and flower elements. They are all big, bright, and sure to attract the younger audience.
Pizza Planet Truck (5658)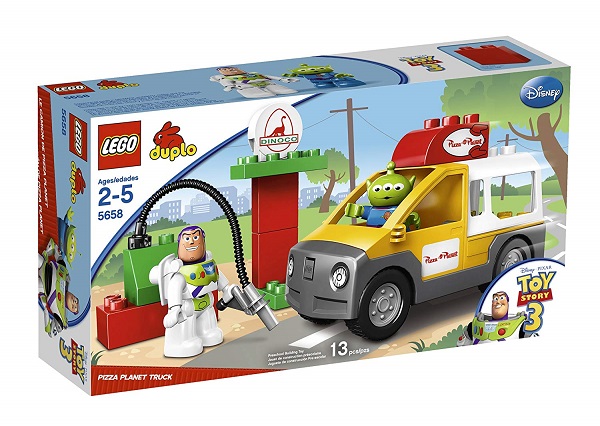 Buzz Lightyear is on the ultimate mission: to deliver the galaxy's greatest pizza in 30 minutes or it is free! Well, not really, but he still has a mission and he is driving a Pizza Planet Truck. Fill it up at the gas station and head to infinity… and beyond!
This 13-piece set contains a Pizza Planet Truck standing at 5″x4″, plus a gas pump and a gas station sign. If you look at the sign itself, you will notice that LEGO decided to continue Pixar's habit of putting Easter eggs to each of its movies. The Dinoco sign is from the Cars movies, another Pixar property. Now that is advertisement!
The Great Train Chase (5659)
The largest of the Toy Story DUPLO sets at 39 pieces; this is the DUPLO version of the LEGO set. The train is smaller and simpler, and Hamm/Evil Dr. Porkchop, Rex, and Bullseye are not included. Everything else is already there, though.
Alien Space Crane (5691)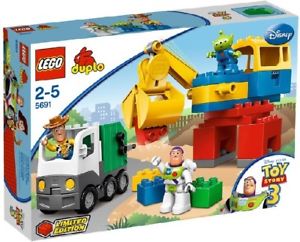 This was a limited edition DUPLO set. In the UK, it was a Toys'R'Us exclusive, while it could only be gotten at a LEGO story and a Toys'R'Us. At 23 pieces, this set seems to have been meant to emulate the Trash Compactor Escape set from before. Everything is made for easy building, and the crane's shovel is easy to open and close. It is a good fit for a toddler or kindergarten age kid.
Toy Story Keychains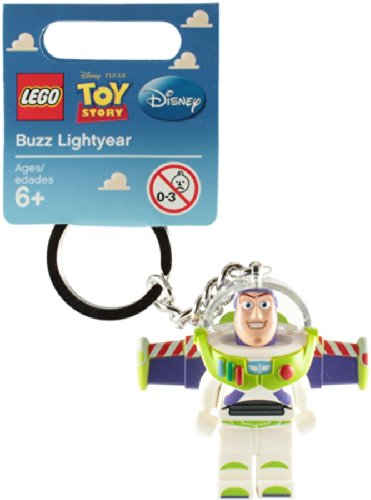 Like many other themes that they have done, LEGO released minifigure keychains based on Toy Story characters. They included
Good news: fans can carry Woody and Buzz around in their pockets. The bad news is, they are not actually toys.
Toy Story Magnet Set
Sometimes LEGO likes to release magnets based on themes, and Toy Story was a prime candidate. They only released three magnets in total: Woody, Buzz Lightyear, and a Little Green Man (3-pack). The LGM is on extra bricks because he has no stud receptacles on his legs.
We hope this guide helped you find some of the best LEGO Toy Story sets. Which is your favourite?