Hey guys, welcome to the BrickPals LEGO 2018 Holiday Gift Guide, Part 1! In this series of posts, the BrickPals team will provide suggestions for LEGO Christmas gifts at different price ranges. Hopefully, this will help you as you choose which LEGO sets to get as gifts for Christmas, especially since the holiday season is right around the corner!
Today, we will offer our suggestions for 2018's best LEGO sets under $20. Bear in mind these prices are U.S. retail prices and will vary from country to country, but we will also include the UK and Euro prices for the sets in our article. Let's begin!
Mark and James: 76109 Quantum Realm Explorers (£19.99, $19.99, 24.99€)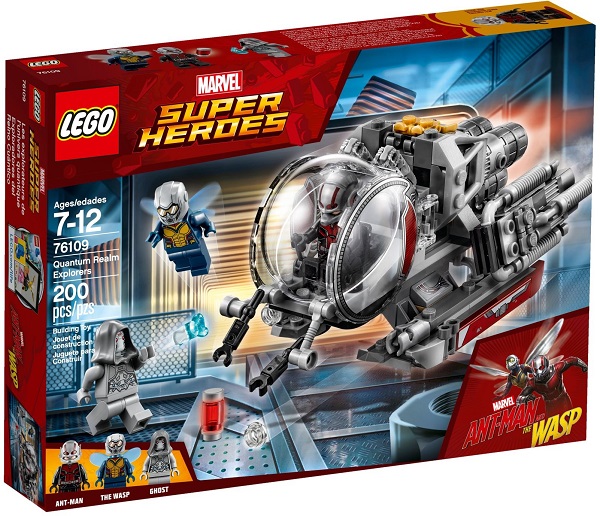 The Ant-Man and the Wasp sequel film was released in July 2018 and what better way to bring back its popularity to the LEGO world than by the release of new sets.
Released at $19.99, the 200-pieced 76109 Quantum Realm Explorers set features the Quantum vehicle, playable functions, accessories and three minifigures. Having 3 minifigures, including Ant Man and Wasp is great value for a $19.99 set. But it's the vehicle that people are most drawn to in this set…
We feel that the vehicle is an almost perfect representation to the one seen in the movie, except for the one seat. It's such a cool build for a LEGO set under $20. We especially liked the Ant-Man minifigure and it's always nice to have a brand new minifigure in Ghost. Unfortunately, Wasp's helmet needs a lot of improving and should have included printing for the legs. Wasp seems a little rushed to be honest.
Considering all of that, it is the build that propels this set from the rest in this price range. Whether you're using it for play or display, it really ticks a lot of boxes and presents excellent value for money. While the Wasp minifigure isn't all that accurate, at least you get Ant-Man and Wasp in the same set for under $20!
Andreia: 41615 Harry Potter & Hedwig BrickHeadz (£14.99, $14.99, 14.99€)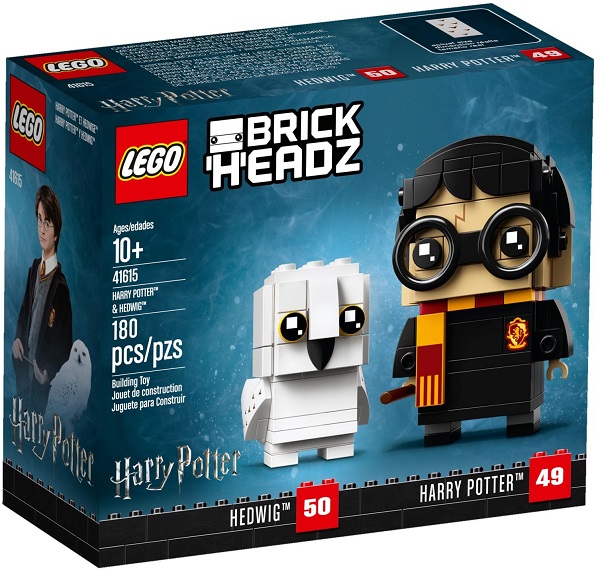 Brickheadz aren't everyone's favourite sets, but they have their own particular charm. While mostly decorative rather than full-fledged playable sets, they come in a variety of themes. Almost every major LEGO theme has their own Brickheadz figure, and they're especially popular in franchise sets. We should also consider that they're also cheaper than average.
So it might not be so surprising that my favourite under $20 LEGO set for 2018 is one of the Brickheadz family. Costing only $14.99, it's the LEGO 41615 — the LEGO Brickheadz Harry Potter & Hedwig set. While slightly pricier than individual Brickheadz, this set comes with two figures — and Hedwig is absolutely adorable. Harry has his trademark glasses and wand and wears a Gryffindor uniform — the perfect thing for fans of the Wizarding World.
Anonknee Muss: 853744 Knightmare Batman Accessory Set (£10.99, $12.99, 12.99€)
For the official Brick Pals 2018 Christmas gift guide I chose set 853744 Knightmare Batman Accessory Set for the under £20 slot. It includes 3 minifigures, one of which is exclusive to this set which happens to be Batman. Batman has a new printed Bat-Cowl which sports some printed goggles. He also has a detailed trenchcoat printed on both his torso and leg pieces. The other two minifigures are two identical green Parademon warriors of Steppenwolf with wings to attach to them both. As well as the three minifigures you also receive a small build for Batman which includes two stud shooters (VaderFan's favourite!) built as part of a mini turret and also an exclusive printed tile which features a printed jester.
This is a $12.99 set and contains 46 pieces which creates a high price per piece ratio (which is not the best) of $0.28/£0.23/€0.28 per piece. This set is only available to purchase from Lego stores and the official online Lego shop. I strongly recommend this set for collectors despite the price tag (the blister packaging is more expensive to produce than boxes) and stocking fillers for children who love the caped crusader.
See the 9 best LEGO Batman Sets here!
Anorak: 76102 Thor's Weapon Quest (£19.99, $19.99, 24.99€)
Marvel Superheroes is one of the most successful lines LEGO has released as of yet, spanning a hundred sets over six years. Each year, eagerly awaited sets are released to coincide with new action blockbusters.
My choice for 2018's best LEGO sets under $20 is one of these sets. 76102 Thor's Weapon Quest is, in my opinion, one of the best sub-20 dollar sets Marvel has to offer. Including a space pod, three essential minifigures, two of which are exclusive, and a side build, there is enough packed into this small set to tickle anyone's fancy. Included is Teen Groot, Thor, and Rocket Raccoon, all of whom are based off their appearances in Avengers: Infinity War. The pod is directly inspired from the film, and can attach to a large build. It has seating for all three mini figures, and uses interesting and engaging building techniques.
If you're looking for a set that won't break the bank and is great for display or play, this is one of the ways to go.
Jackaroo1701: 41629 Boba Fett BrickHeadz (£9.99, $9.99, 9.99€)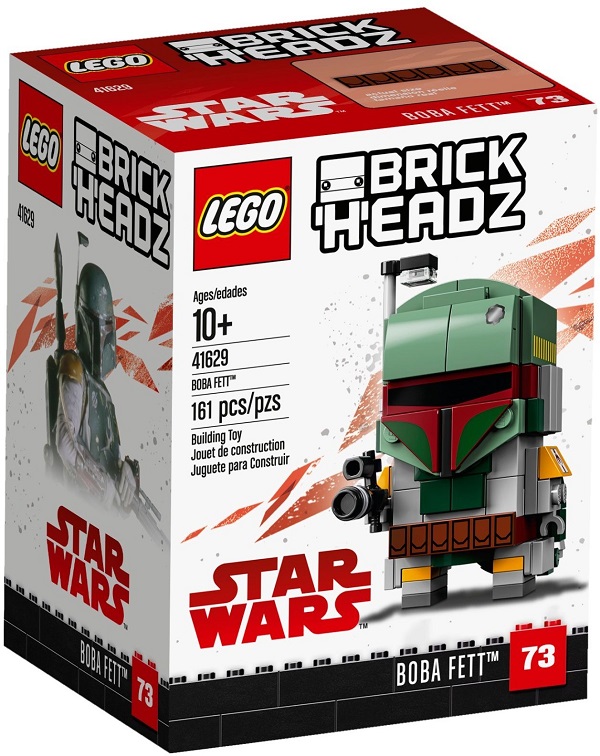 Brickheadz have had a bit of a mixed reception since they were first introduced, primarily because they were initially Comic-Con Exclusives. However, the Brickheadz range has expanded enormously over the past two years, with over 70 different sets over a range of themes such as Marvel, DC, Disney and Star Wars. And when it comes to Star Wars, the best Brickhead hands down is 41629 Boba Fett.
Retailing at the usual price of $9.99 USD, this could quite possibly the best Brickheadz set ever! Why is this so? Let's just look at parts alone: It has 154 parts (alot more than your standard Brickhead) and many of them are unique and are rare colours/pieces. However, the main draw to this set is how it is constructed. It utilises so many different and amazing techniques, and translates the likeness of Boba Fett into Brickheadz form perfectly.
This set looks great on display, and is one of the most innovative builds out there – great for younger and older builders. If you like Brickheadz, this set is a must. If you like Star Wars, this set is also right up your alley, and even if you aren't that interested in the Brickheadz theme yet or Star Wars, this is still such a fun little build which is why 41629 Boba Fett is my choice for this list!
See the 15 best Star Wars sets here!
LegoFan_4: 60171 Mountain Fugitives (£9.99, $9.99, 9.99€)
60171 Mountain Fugitives is one of this year's LEGO City theme starter sets. It costs only $9.99 and contains 88 pieces which means it has a great price per piece for this year, only 11.4c. It includes four very detailed minifigures, one of which is exclusive (the female crook).
The female officer has a cap with hair piece, a rare part only available in this set and in a more expensive one (60174 – Mountain Police Headquarters). Speaking about parts, it is worth mentioning the new beehive piece which first appeared this year (new part) and the printed 2×2 round tile with tree trunk design from last year, but so far has only appeared in just three sets. In conclusion, this is my favourite LEGO set in 2018 under $20!
VaderFan2187: 70651 Throne Room Showdown (£17.99, $19.99, 19.99€)
LEGO releases a huge number of sets in the under $20 price bracket every year, and thus there is a wide variety of sets in this price bracket to choose from. However, my set of choice would be 70651 Throne Room Showdown, from the LEGO Ninjago theme. It was released in June of this year, with 221 pieces and a price tag of £17.99, $19.99, and 19.99€.
Why did I choose this set? Well, because I think it offers great value for money and is a really fun set to play with. Its strongest aspect is the minifigure selection – five minifigures in a set of this size is rare, not to mention the fact that all five of them are named main characters in the Ninjago TV show! The build is a little bit small but it still looks nice, with an oriental color scheme and an elegant throne for Harumi in the center. You can read my review of the set here.
Other honorable mentions in this price bracket include 76101 The Outrider Dropship Attack (if you prefer Marvel), 60176 Wild River Escape (for the LEGO City fans), or 41627 Luke & Yoda BrickHeadz (for the Star Wars and BrickHeadz fans).
That's it for Part 1 of the Brick Pals Holiday Gift Guide! We hope this guide will help you in your choices for 2018's best LEGO sets under $20 this holiday season.
Let us know your thoughts in the comments below – including your picks for Christmas gifts! – and be sure to check back soon for Part 2 of the Brick Pals Holiday Gift Guide!
Thanks for reading, and Happy Holidays from the Brick Pals team!