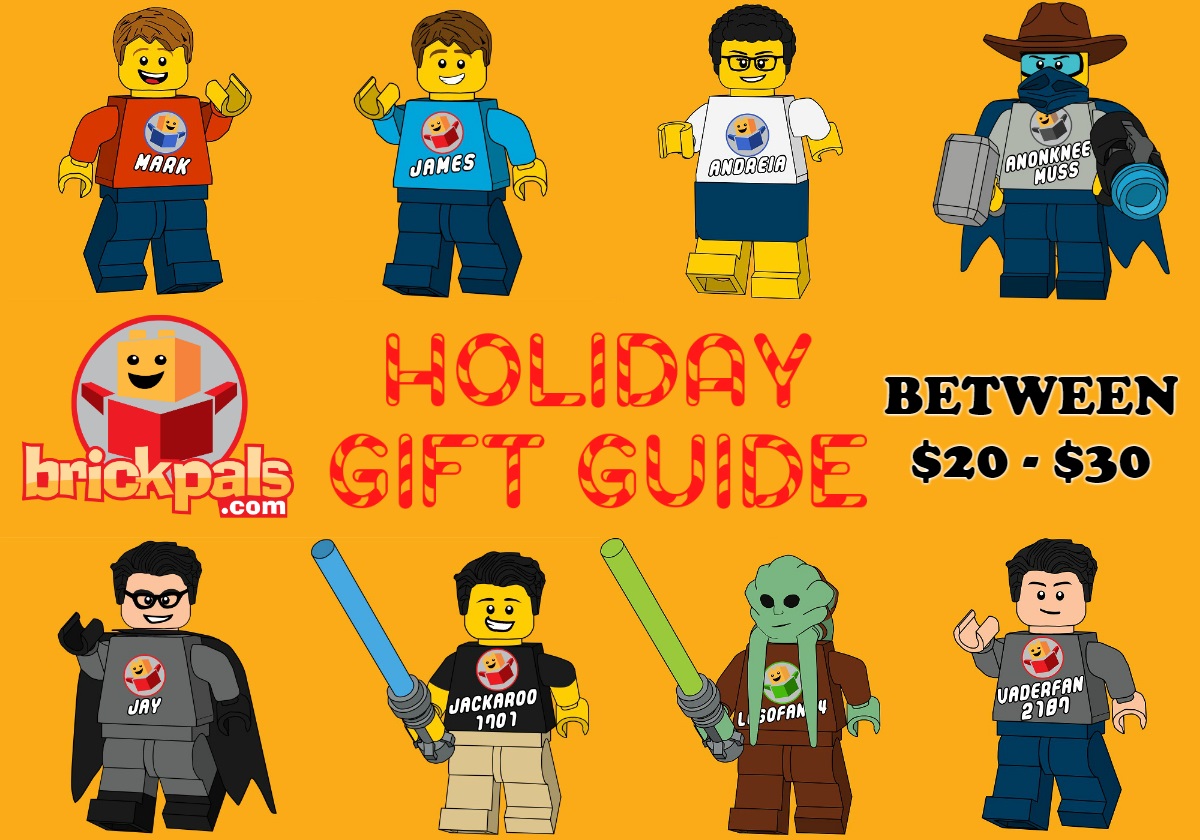 Hello everyone, and welcome to Part 2 of the Brick Pals LEGO 2018 Holiday Gift Guide! In this series of posts, the BrickPals team will provide suggestions for LEGO Christmas gifts, talking about some of the best 2018 LEGO sets between $20 and $30. We hope these posts will help you as you choose which sets to get as gifts in the upcoming holiday season!
Bear in mind these prices are U.S. retail prices and will vary from country to country, but we will also include the UK and Euro prices for the sets in our article. You can also find Part 1 of our Gift Guide here. Let's begin!
Mark and James: 60201 City Advent Calendar (£22.99, $29.99, 19.99€)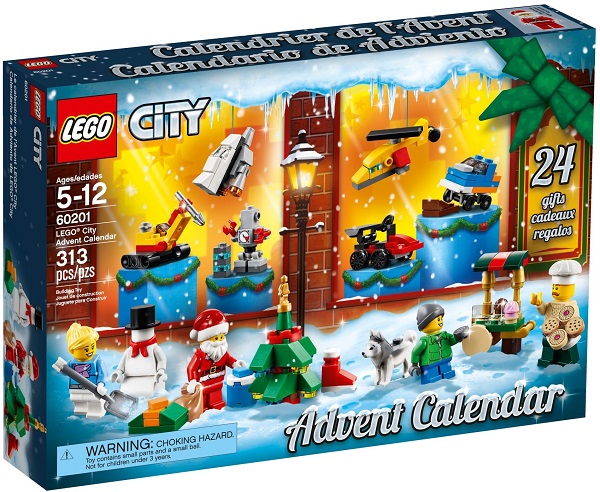 Who can skip the LEGO advent calendars in a list of their favourite 2018 sets? We certainly can't! The 2018 LEGO City Advent calendar (60201) presents 24 days of surprises and excitement in the build up to Christmas Day. LEGO also reduced the City calendar in mid-November making it better value for money. What we especially like about this calendar is that it is more in line with the seasonal celebration than that of Star Wars or Friends. The mini builds are particularly good and do reference the City themes from within the year. Our favourites are the Christmas tree, market stall, outdoor light with holly decoration, spaceship toy and monster truck. The drone is also pretty cool!
With the 2018 City Advent calendar you get 5 minifigures and 19 mini builds. Although none of the minifigures reference this year's City themes, you do get Santa and a snowman which is awesome! While Santa could have had the rare face print from previous years, it's still nice to get a Santa figure at Christmas.
Perhaps our favourite piece from the whole calendar is the single golden Christmas tree topper with a minifigure design. This really catches the eye and will be popular among fans of the calendars.
Andreia: 75208 Yoda's Hut (£25.99, $29.99, 29.99€)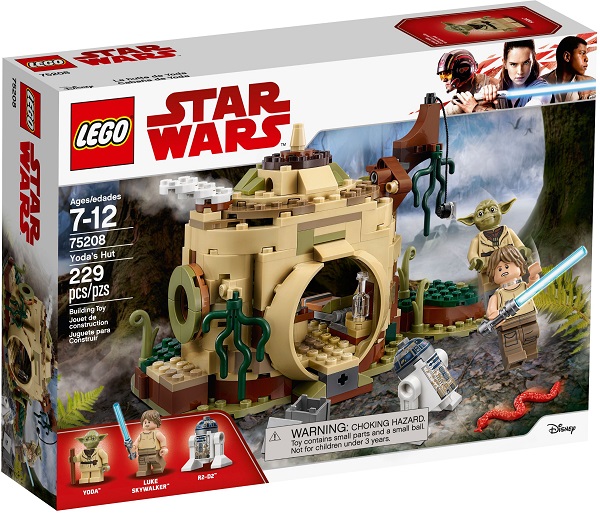 Coming in just shy of $30 RRP at the official LEGO website ($29.99), this set appeals to children and adults alike. The LEGO 75208 Yoda's Hut set recreates a setting of the original trilogy to a sweet and nostalgic effect. It comes with a Yoda minifigure as well as young Luke Skywalker, plus accessories such as a snake, kitchen stuff and training areas and R2D2. Luke can even carry Yoda on his back!
This fairly small and simple set (it has 229 pieces) is remarkable in the amount of detail it puts with very few pieces. The set is very playable for a younger audience, with many features to interact with. It's also a great decoration for Star Wars and adult fans of LEGO — not as common as, say, the Millennium Falcon, but also not so obscure other people won't recognize it. Plus, it's very affordable!
See the 15 Best LEGO Star Wars sets here!
Anonknee Muss: 60182 Pickup & Caravan (£24.99, $29.99, 29.99€)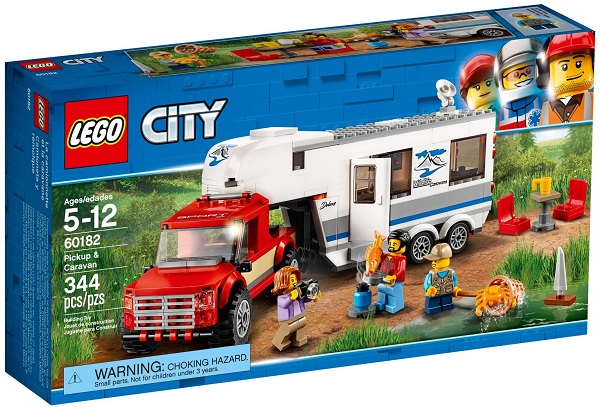 I'm back but this time I'll be giving a recommendation on a set between $20 and $30. Drumroll please! *Drumrolls* Set no. 60182 Pickup and Caravan which retails for £24.99/$29.99/€29.99. This set contains a two-seated Pickup and an impressive American RV-esque Caravan. Don't worry the child fits in the Caravan while the parents are driving, hold on isn't that illegal?…
As well as the vehicles mentioned above, the set includes two chairs, a table, a fishing net, a fish, a crab, a toy boat, a camera and a camping stove (which uses a blue minifigure head as the gas canister, the stove, the outdoor gear is just so perfect). This set is everything you'd expect from a typical American outdoor holiday! In addition to the previously said, it also has one of the greatest Lego references in Lego-kind: this set has the same parents as the ones featured in 60134 but now the baby has grown into a child. A reference two years in the making. Lego has been quite generous to give us a PPP (price per piece) of £0.073/$0.087/€0.087. This set will make a great addition to 60202 and since it has over 340 parts, you or your child can build some impressive creations as an added bonus!
Jackaroo1701: 75209 Han Solo's Landspeeder (£25.99, $29.99, 29.99€)
Just scraping in (much like its movie counterpart) is 75209 Han Solo's Landspeeder at the retail price of $29.99. This was released ahead of the Han Solo spin-off anthology movie titled "Solo: A Star Wars Story" and features two key characters from the film: Han and Qi'ra.
What's so good about this set? Besides its two key minifigures, the star of the show is the speeder. Featuring a dark blue colour scheme, this speeder has loads of functions. It has small wheels underneath so it can slide along the ground, as well as a pair of spring-loaded shooters. The 'bonnet' of the speeder can be lifted off, to reveal mechanical details underneath such as an engine and storage for tools. The back of the speeder has a storage area for the stolen coaxium (coaxium is hyperspace fuel which Han steals).
No space has been left unfilled in this set, allowing for greater playability as children fix the engine and hide the coaxium, whilst using the speeder's missiles to shoot the Corellian Hound. And while it is packed full of playability, it also looks brilliant. There's just something about the dark blue colours, combined with the asymmetry and technical detail of the speeder making it look great on display. Any Star Wars fan would be lucky to get this set for Christmas!
Choosing one set is a tough choice – honourable mentions include Creator 3-in-1 Treehouse Treasures (31078), which is another fun set with lots of play potential!
Jay: 75888 Porsche 911 RSR & 911 Turbo 3.0 (£34.99, $29.99, 39.99€)
I normally don't collect Speed Champions, but set 75888 Porche 911 RSR and 911 Turbo 3.0 is straight up phenomenal, especially for a holiday gift. With three reusable mini figures, two interesting cars, and a side build, this set is also great for both display and play, incorporating fun building techniques and playability. Both vehicles look extremely similar to their real-life counterparts, and while the amount of stickers might be a drawback, the set's price to piece ratio is exceptional ($30 for 391 pieces), and the price is only dropping. Pick it up for a lot of fun and a great build.
LegoFan_4: 75927 Stygimoloch Breakout
This year we got the new Jurassic World movie, Fallen Kingdom, and LEGO produced a new wave of themed sets based on the movie. One of the most interesting sets in the theme is 75927 Stygimoloch Breakout. It contains two minifigures and a Stygimoloch with posable limbs and head. The Stygimoloch is exclusive to this set so it is a good opportunity to complete your LEGO Dinosaur collection. The figure measures 12 cm long from nose to tail. The laboratory build contains an observation deck and a tilting workbench with a window-breaking function. For all Jurassic World fans, this set is simply a must-have, because it offers a lot of playing options and collectable value. The exclusive Dr. Wu figure is also really detailed and includes two face expressions.
VaderFan2187: 76104 The Hulkbuster Smash-Up (£29.99, $29.99, 34.99€)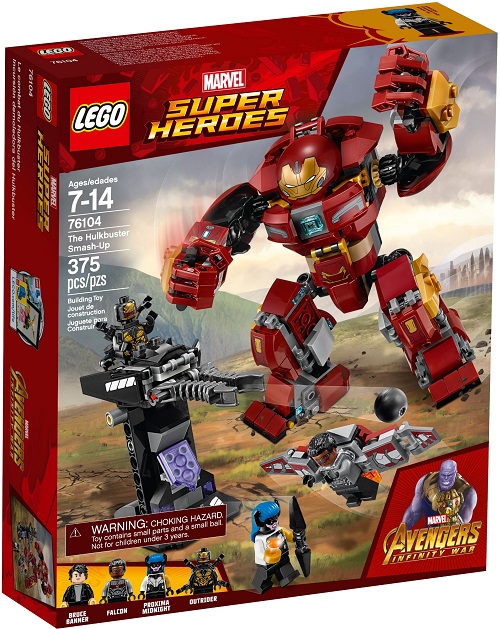 The $20 to $30 USD price bracket is another one that contains a wide variety of great LEGO sets. LEGO released many sets in this price range this year that I like, however my favorite one would probably have to be 76104 The Hulkbuster Smash-Up, from this year's Avengers: Infinity War lineup. It clocks in at 375 pieces and has four minifigures: Bruce Banner, Falcon, Proxima Midnight, and an Outrider.
There are many, many reasons to love this set. The updated Hulkbuster build is the star of the set, with a printed cockpit dome, eye-catching dark red and gold color scheme, and great play features like poseable limbs, opening cockpit with space for a minifigure inside, and a swinging arm function. It also looks great when standing on a desk beside you when you're doing work! There's also a hijacked Wakandan cannon that can has a firing shooter and a feature that makes it look destroyed. Furthermore, the aforementioned minifigure selection is another strong aspect of the set – Proxima Midnight is an exclusive character and will likely stay that way, Falcon is an exclusive version, and while Bruce Banner and the Outrider are not exclusive, they are still nice minifigures.
Furthermore, the price of the set seems reasonable, especially considering the quality of the builds and the inclusion of four minifigures. However, if you're not a fan of this set or you already own it, then I would recommend other very close runner-ups like 75888 Porsche 911 RSR & 911 Turbo 3.0 (from the Speed Champions line), 76095 Black Manta Strike (based on the new Aquaman movie), or 75215 Cloud Rider Swoop Bikes (a LEGO Star Wars set from the Solo movie). If you like this set and would like to consider it further, you can read my review of the set here.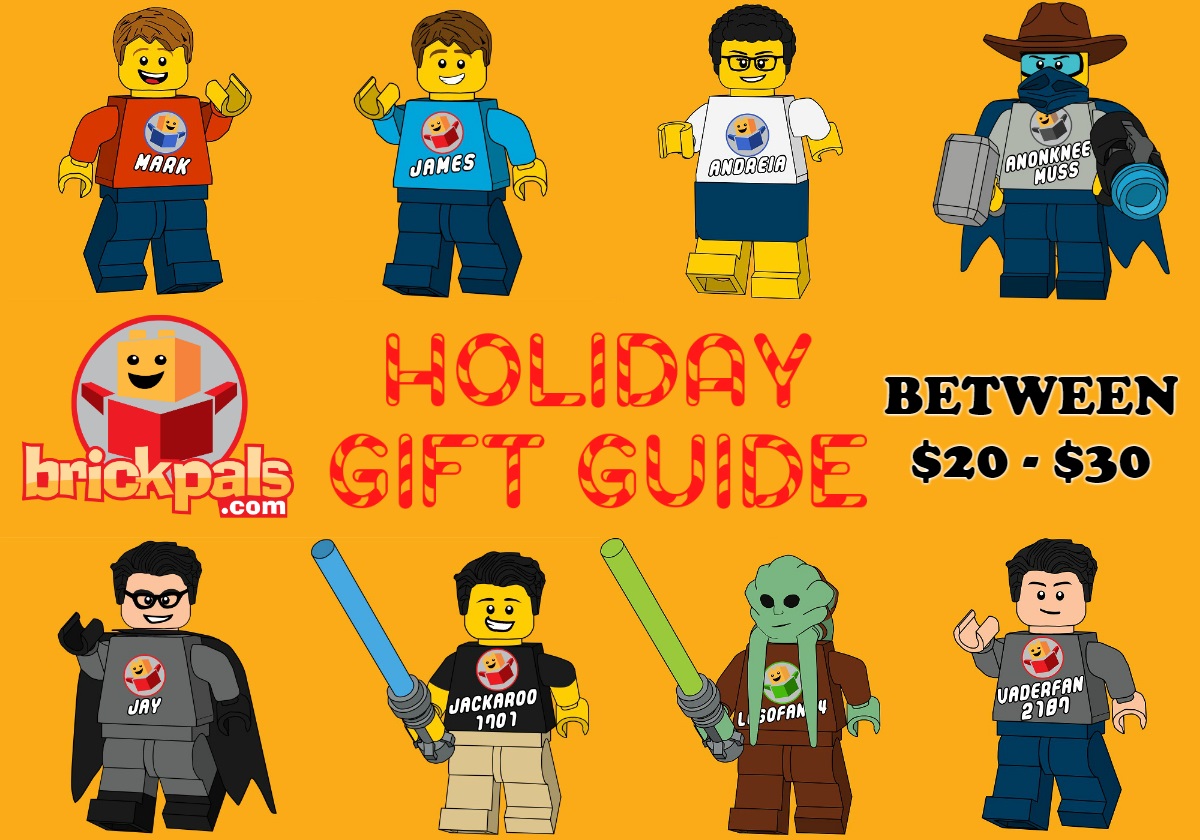 That's it for Part 2 of the Brick Pals Holiday Gift Guide! We hope this guide will help you in your choices for LEGO gifts between $20 and $30 in this holiday season.
Let us know your thoughts in the comments below – including your picks for Christmas gifts! – and be sure to check back soon for Part 3 of the Brick Pals Holiday Gift Guide! Also, if you haven't already, check out Part 1 of our Guide!
Thanks for reading, and Happy Holidays from the Brick Pals team!