It is incredible how much can come from something so small and simple. With the power of LEGO, people can create genuine works of art that rival anything found in a museum. From a car that runs on little TECHNIC engines to a life-size X-Wing, LEGO can produce some fantastic things. LEGO has more than bought into the idea that bigger can be better. The biggest LEGO sets in history have thousands of pieces in them. They may be a pain to build, but the result is worth it. For those who are looking for size comparisons, here are the twenty hugest LEGO sets of all time.
Biggest Star Wars Sets
Sandcrawler Set 75059 (3,296 Pieces)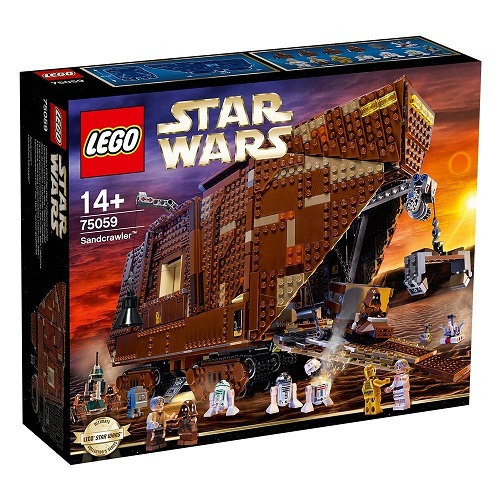 Jawas, the hooded, babbling Oompa-Loompas of Star Wars. Native to Tatooine, the Jawas scavenge the planet in search of technology. Anything they find, they take back to their Sandcrawler homes to resell to customers. With the LEGO Sandcrawler set, fans can recreate this classic piece of Star Wars lore.
Befitting the Sandcrawler's size in the films, the LEGO one is as big. At 9″x18″x6″, it is quite the behemoth. Not surprising, considering it has 3,296 pieces in it. On the outside, it maintains the worn and patchwork look that you would expect from Tatooine. It is on the inside where the fun begins.
The Sandcrawler is as mobile as its movie version. It has eight tracks with steering function, but that is not all. The front ramp lowers to let the Jawas and droids out, there are opening side flaps, and a hatch for getting to boxes. Remove the top to look inside and find working cranes, a speeder bike, the engine and storage bay, and cockpit. It even has stock parts for old droids.
Final Thoughts
Between the number of pieces, level of detail, and the seven different minifigures, there's a lot here for people ages 14 and up. At $299.99 when it first came out in 2014, it is expensive, but it makes itself worth the price tag. Get this if you want a fresh new LEGO vehicle.
Death Star II Set 10143 (3,449 Pieces)
The Death Star, a weapon built to instill the terror of the Empire upon the galaxy. It has the firepower to destroy an entire planet in the blink of an eye. Thank the Force that Luke blew the first one to kingdom come. Then the Emperor built a bigger and more powerful version above Endor, and it has been made into some giant LEGO sets.
At 3,449 pieces, this Death Star stands a full 25 inches tall and 19 inches wide. That is massive for a LEGO set. Every part of the superweapon is recreated, down to its still-visible skeletal frame. For size comparison, the set has a little Star Destroyer to drive home how big it is. Put it on the display stand, and stand and marvel at its size.
Final Thoughts
This set came out more than fourteen years ago for $299.99. Meant for ages 16 and up, it ceased production in 2011, making it hard to find. There is not a lot to do with it once it has done besides keep it on a shelf. Those looking for something to play with may consider something else.
Death Star Set 10188 (3,803 Pieces)
This new version of the Death Star is a significant improvement over the one listed above. At 16″x16.5″, it lacks the size of the previous version. At 3,803 pieces, though, it wins in the number of pieces available.
Much of the extra pieces go into the internal details of the set. It is like a diorama of iconic scenes from A New Hope and Return of the Jedi. From the famous trash compactor scene in Episode IV to the final duel between father and son in Episode VI, this set has it all. Movie locations include the Imperial conference room, the hangar bay, detention block, and more.
To top it off, this huge set contains two dozen minifigures, a quarter of which are exclusive to this set: Luke and Han in their Stormtrooper disguises, droids, and two Death Star Troopers.
Final Thoughts
When this was released in 2008, it was one of the biggest LEGO sets around. At $399.99 at the time, it was an expensive toy for ages 14 and up. Given the level of detail and number of minifigures, its price can be justified, though. This is necessary have for Star Wars fans.
The Death Star, Set 75159 Remake (4,016 Pieces)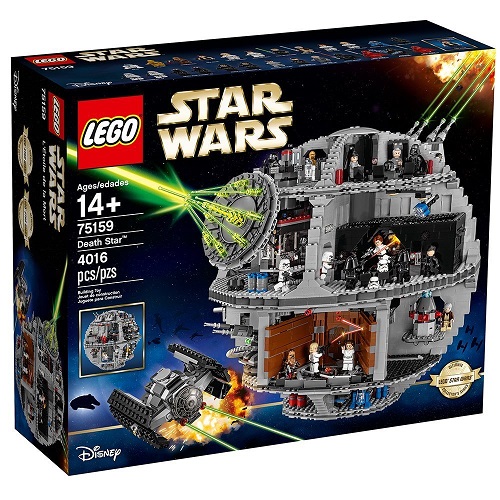 LEGO seems to love the Death Star, doesn't it? In 2016, they released an improved version of the 2008 Death Star. At 16″x16″, it is a little bit smaller than the older version, but at 4,016 pieces, it wins in the size department.
Being a remake, this new Death Star does not have many changes to its design. A few differences between the two giant sets are:
Removing an assassin droid
Adding four new Imperial minifigures
The trash monster is smaller
Updated versions of the minifigures
Final Thoughts
This new set is an unexpected, but not unwelcome, improvement over an already great set. Like the last version, it is for ages 14 and up. It is more expensive at $499.99, but all the bells and whistles make it a worthwhile addition to any collection.
Ultimate Collector's Edition Millennium Falcon (2007) Set 10179 (5,197 Pieces)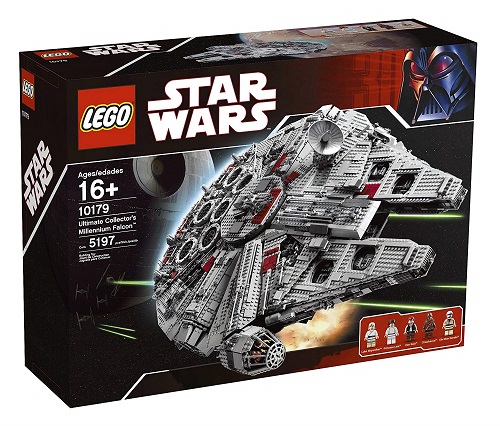 It seems fitting that one of LEGO's most popular lines would hold the record for the biggest LEGO set ever. When this came out in 2007, the Ultimate Collector's Edition Millennium Falcon was the biggest set LEGO had released. Measuring 33 inches in length and, 5,195 pieces, this set was the biggest seen.
This version of the Falcon was one of the most detailed versions of the famous ship to be released. On the outside, it has everything: the turrets, the landing gear, that oversized dish; it is perfect! It also came with five of the heroes of A New Hope: Luke, Han, Obi-Wan, Chewie, and Princess Leia.
Befitting such a giant LEGO set, the instruction book is big as well. At 311 pages, it is more like a textbook.
Final Thoughts
Sold at $499.99 and for ages 16 and up, this is one set for the big leagues. The only downside is that the interior is sacrificed to maintain the model's shape. Even so, the details on the outside are worth the price.
Note: The Millennium Falcon Set 75192 can be found at the bottom of this article in the 'biggest LEGO set' section.
Biggest NINJAGO Sets
Ninjago City Docks Set 70657 (3,553 Pieces)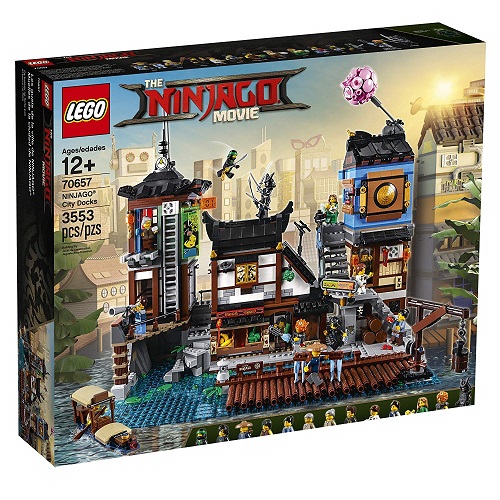 Since it started in 2011, Ninjago has been one of LEGO's most popular themes. Several video games, a TV show on Cartoon Network, and merchandise all make for a popular series. Therefore, when LEGO started making movies out of its themes, it was no surprise that Ninjago got one. Alternatively, they got some great sets, like the Ninjago City Docks.
This set measures at 14″x14″x9″ and contains 3,553 pieces in total, so it has some space. As one of the hangouts for the Ninja, it is a mixture of both old world and modern technology. The harbor comes with a functioning crane and boat, while the buildings split into two levels. From a grocery store and house to an arcade, this set is brimming with personality and detail. The realism is only increased with the brick built water, making it seem like its straight from the movie. With 13 minifigures, there is plenty of things for them to do.
Final Thoughts
The level of personality that is crammed into this set is fantastic. At $299.99, it is hard to believe that it is for ages 12 and up, considering how many pieces are in it. To make it even cooler, it can connect to the Ninjago City set from the movie, making it even bigger and cooler.
Ninjago City Set 70620 (4,867 Pieces)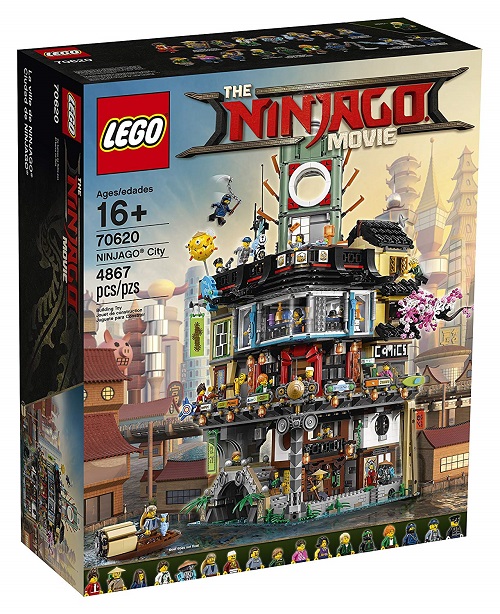 Welcome to Ninjago City, home of the Ninja who protect it from the evil Lord Garmadon. Unfortunately, one of those ninjas happens to be Garmadon's teenage son, Lloyd, the Green Ninja. He lives with his mom in this 3-story apartment.
This set measures at 2'x1'x16″, contains 4,867 pieces, and splits into three levels that can be removed for easy play. On level one, we have a bridge, sewer outlet, fish market, and a house. Going up, there is a fashion store, a construction site, comic book store, and too many details to count. Level 3 has Lloyd's apartment and a sushi bar.
There are too many details in this set to count them all accurately, and that is not even including the 16 minifigures that comes with it. The best part, though, is that this set can connect with the Ninjago City Docks set to create a mega set.
Final Thoughts
Meant for ages 9 to 14 and retailed for $299.99, this set is bursting to the seams with ways to have fun. Like the City Docks set, this set's bursting with fun things to do. It is like a kid's dream come true and worth the money!
Biggest TECHNIC Sets
Bugatti Chiron, Set 42083 (3,599 Pieces)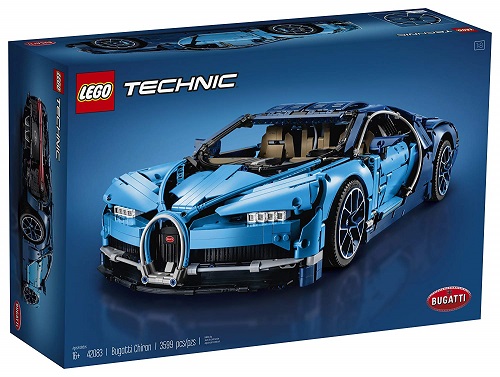 LEGO TECHNIC has always managed to build some fantastic sets, but this is one of their most ambitious. Released in 2018 and measuring 5″x22″x9″ and 3,599 pieces, this 1:8 scale model of a Bugatti Chiron recreates one of the best luxury cars in the world. It has some details inside its frame, too.
Open the doors and step inside to find the LEGO Technic gearbox, adjustable gearshift, and steering wheel with the Bugatti emblem. The engine even has moving pistons in it. Insert the key in the set to move the rear wing into top speed position. The detail is amazing!
Final Thoughts
"Amazing" is a bit of an understatement. This model is phenomenal! The level of detail is incredible, and this is nothing. LEGO took it a step further and made a life-size model that drove. This set's big for TECHNIC, and it lets people know it with its $349.99 price tag. Teenagers aged 16 and up will have a tough time building this.
Bucket Wheel Excavator, Set 42055 (3,929 Pieces)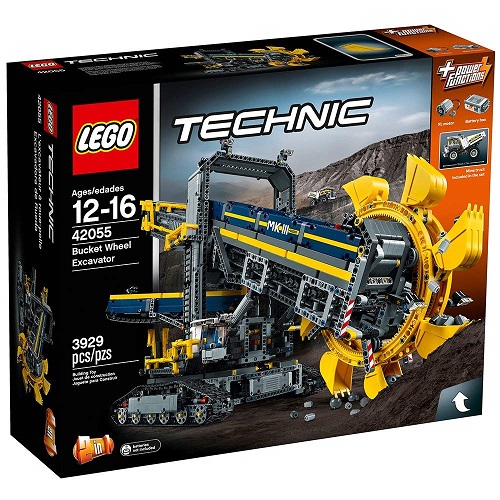 When you are in the mining business, you need big toys to help you out. When you are mining for LEGO's, then you need something appropriate. This is the Bucket Wheel Excavator.
Released in 2016, this set is split into two main parts, the excavator itself and the mine truck. Each of them is 16″x28″x11″ and 3″x7″x3″, and it comes to 3952 pieces. The set has several LEGO power functions to create as realistic play as possible. The bucket wheel rotates, the conveyor belt moves, and the whole thing can rotate using a joystick. The entire thing is meant to be an immersive experience.
Final Thoughts
This set is for kids aged 12-16 and costs $279.99. The amount of moving parts on it, though, are what make it so expensive in the end, and what makes it worth it. If that is not enough, it can be rebuilt into a mobile processing plant for even more fun.
Rough Terrain Crane, Set 42082 (4,057 Pieces)
At 22.0″x18.9″x6.7″ and 4,057 pieces, this crane's the most massive TECHNIC set to date. Like the other TECHNIC sets on this list, it has an incredible amount of detail on it. The whole thing has a power function motor to move the upper and lower parts of the crane. It can raise and lower the legs, rotate 360 degrees, or move the boom into the air.
Final Thoughts
Considering how big and tough this whole thing is, it is not surprising that it cost $299.99. It is hard to believe that 11-year-olds can build this set, but some kids do like a challenge. Even if that challenge may befuddle many adults.
Biggest LEGO Movie Sets
Welcome to Apocalypseburg! Set 70840 (3,178 Pieces)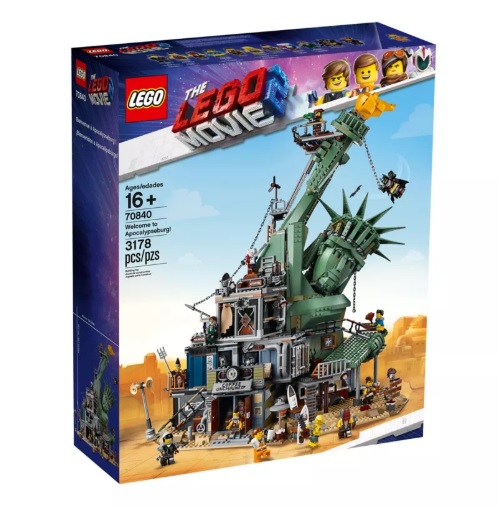 Ever since the events of Taco Tuesday, Bricksburg has been transformed into a Mad Max wasteland. The people have gotten tougher, as well, expect Emmet. He keeps being upbeat and peppy no matter how bad things seem to get. Too bad everything is still in the dumps, like the Statue of Liberty.
This January 2019 set measures at 20″x19″x12″ and has a whopping 3,178 pieces packed into it. Like the sets for The LEGO NINJAGO Movie, this set is brimming with personality and things to do. It is built into the side of the fallen Statue of Liberty and features removable modules to allow for easy play. Aside from Lady Liberty, we got the cafe, Scribble Cop's (formerly known as Bad Cop) office, a tattoo/barber parlor, diner, and more. Each building is filled with fun little props and features.
As for the minifigures, everyone has gone Mad Max since the Duplo invasion. Most of them are rocking Mad Max improvised armor and Mohawk's. The only one who has not changed is Emmet, but that is all right.
Final Thoughts
For ages 16 and up, and at $299.99, this set is as expensive as it is going to be tough to build. Given all the cool things that can come out of this set, though, and all the characters, it is worth spending a paycheck on. Besides, the Statue is an excellent reference to Planet of the Apes.
The Joker Manor Set 70922 (3,444 Pieces)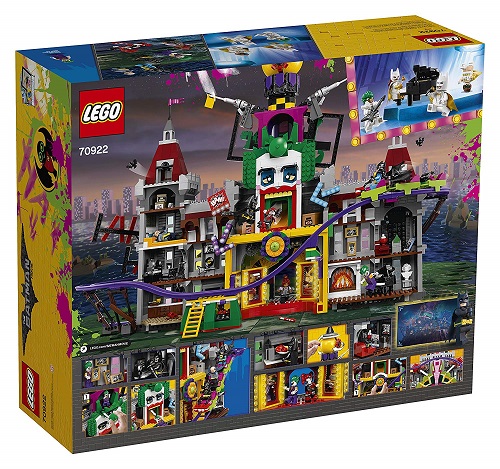 Technically, this is not from The LEGO Movie, but since it is a spin-off of that movie series, it will count here. Also, no one tells Batman what to do, because he's Batman.
This is what Wayne Manor looked like after the Joker took it over during the climax of The LEGO Batman Movie. Measuring at 21″x25″x10″ and using 3,444 pieces, this large LEGO set is as crazy as the Joker is. It has a rollercoaster track, a giant eye tower, Joker head with trapdoor and slide, and more insane stuff. Between the wacky adjustments and the ten minifigures Batman, Joker, and their respective allies, there is a barrel of fun to go around.
Final Thoughts
Even if this were not meant for ages 14 and up, this $399.99 set would still be a challenge for adults to build. It could take kid weeks to finish without help. However, have you seen that rollercoaster? That alone makes this set worth it.
Biggest LEGO Creator Sets
Eiffel Tower Set 10181 (3,428 Pieces)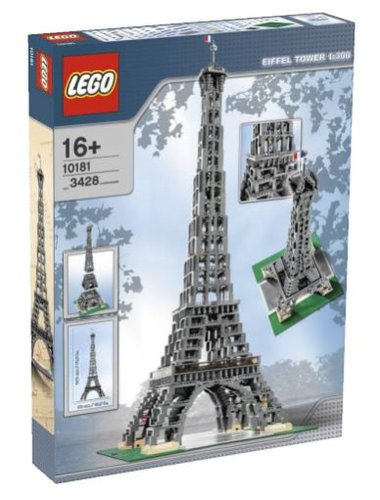 Ah, Paris, one of the cultural capitals of the world. Famous for its landmarks such as the Louvre, the Arc De Triomphe, and of course, the Eiffel Tower. In 2007, LEGO managed to recreate that monument to the French Revolution in LEGO form.
Standing at 42.5″ tall and with a 20″x20″ base, this 3,428-piece set is 1:300 scale of the real tower. From the French Tricolor at the top to the elevators, this is as amazing as it gets. The best part is that it can split into three sections for transport.
Final Thoughts
This big LEGO set is for expert builders, as in those 16 and up. Since it was released 12 years ago, it will cost more than the $199.99 price it had at the start.
Assembly Square, Set 10255 (4,002 Pieces)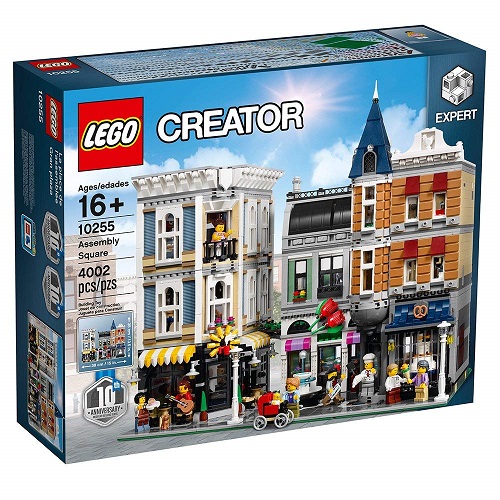 The Modular Buildings sub-theme of LEGO was built to appeal to the older audience of teens and adults. Featuring incredibly detailed buildings, these are some of the coolest sets LEGO has ever made. To mark their 10th anniversary in 2017, LEGO gave us this: Assembly Square.
Standing at 13″x14″x9″, using 4,002 pieces, and eight minifigures, this set is as detailed as they come. Within these three buildings are housed shops and all the fantastic details that bring a structure to life. On the ground floor, there is a bakery, cafe and flower shop filled with assorted props. Middle level has a music store, photo studio, and dental office. Top floor has a dance studio, apartment, and rooftop terrace. The detail is amazing!
Final Thoughts
This $279.99 set is for ages 16 and up, and it will test people's LEGO building. The best part, though, does not even come with the set. This can merge with not only the other LEGO Modular Sets but also the sets from The LEGO NINJAGO Movie. You could build an entire town with this!
Roller Coaster Set 10261 (4,124 Pieces)
Who doesn't love going to an amusement park? With the LEGO Roller Coaster, the fun of the fair can come home in this 20″x34″x16″ set. Using 4,124 pieces, the roller coaster is not just for show. It has a battery-powered mower that can make the coaster move on the track. Fans can recreate the fun of the fair in time for summer with this and the 11 minifigures it comes with.
Final Thoughts
This $379.99 set screams the fun of summer vacation in it. Teens aged 16 and up will get hours of enjoyment out of this huge LEGO set.
Big Ben, Set 10253 (4,163 Pieces)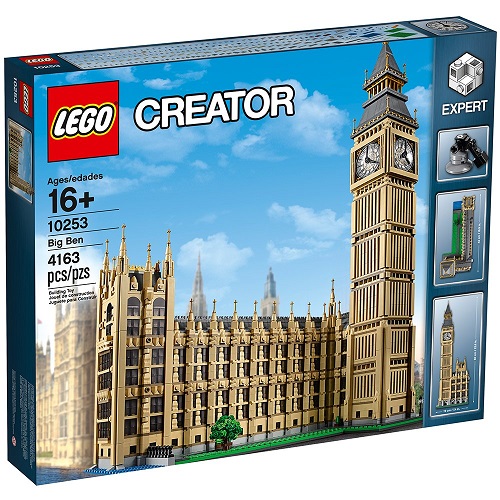 Ah, Big Ben, one of the most well-known landmarks in London. In 2016, LEGO managed to recreate this fantastic icon in this 4,163-piece set. Standing at 23″x17″x7″, this giant set captures the majesty of Big Ben and Westminster Palace. Remove the top of the clock, and you will find the famous Big Ben bell, making it a great addition to any LEGO collection.
Final Thoughts
At $249.99 and meant for ages 16 and up, this set is expensive, but it will end up being worth it once it is done. That and you can re-enact the ending to V for Vendetta afterward.
Tower Bridge Set 10214 (4,295 Pieces)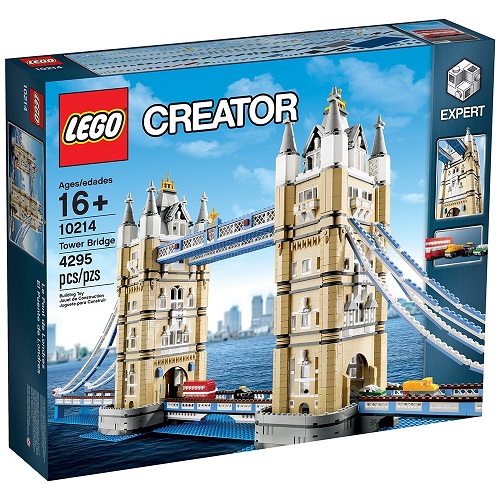 Here we have another famous London landmark in LEGO form, the London Tower Bridge. Standing at over 40″x17″x10″ and using 4,295 pieces, it is as impressive in LEGO form as it is in real life. The kicker is that the drawbridge used can open and close as the real bridge does. To add in on the cool factor, the bridge comes with little LEGO vehicles, including the famous double-decker bus. For easy storage, the bridge can divide into smaller sections and packed away for transport.
Final Thoughts
This $239.99 set for ages 16 and up would go great with the Big Ben set as part of a recreation of London.
Biggest Sets Ever
Second Runner Up- Taj Mahal, Set 10256 (5,923 Pieces)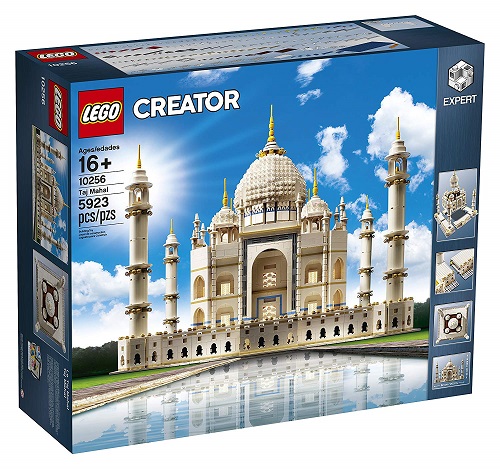 Standing at 16″x20″x20″ and using a staggering 5,923 pieces, this replica of the Taj Mahal does justice to the real world tomb. Divided into seven sections for transport, the gleaming white marble of the Taj Mahal's captured in LEGO form for all to see. The decorations are detailed down to the last brick, making for a fantastic set.
Final Thoughts
If you have $369.99, are over the age of 16 and want a challenge, then this is one of the biggest, yet most impressive display sets there is.
First Runner Up- Hogwarts Castle 71043 (6,020 Pieces)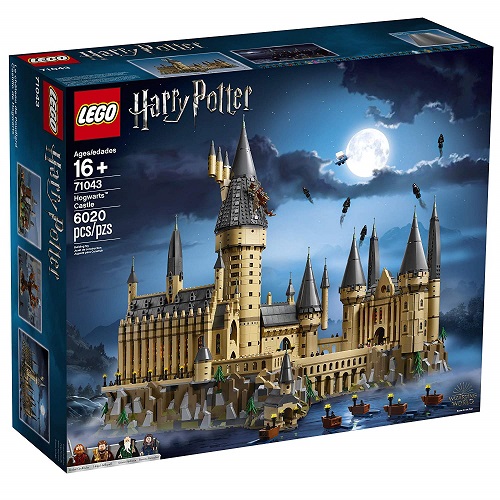 Beating out the previous entry at 6,020 bricks, this 22″x27″x16″ set is overwhelming. It manages to recapture the magical and wondrous world of Hogwarts Castle in minute detail. From the Cliffside upon which the castle is built to the boats and the great hall, no detail was left unattended.
To make the castle seem even bigger, it includes 27 micro figures of all your favorite Harry Potter characters. The four minifigures included are the founders of Hogwarts after which the four houses are named.
Final Thoughts
This set is for 16 and up, and they mean it. At $499.99, it is an expensive build, but something that will make your wizarding friends jealous with envy.
World's Largest LEGO Set- Millennium Falcon Set 75192 (7,541 Pieces)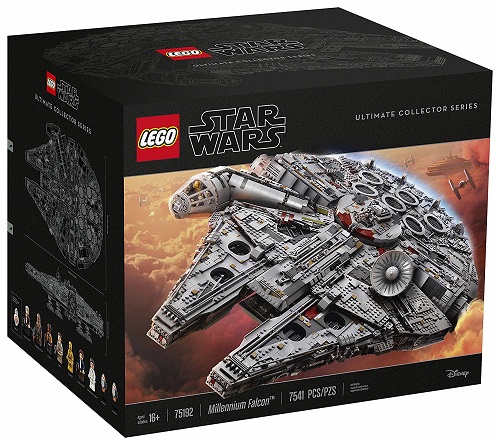 Here it is, folks. The world's largest LEGO set (excluding MOCs of course), the ultimate Millennium Falcon. It has the same measurements as the Ultimate Collector's Falcon, but it has 2,000 extra pieces. This brings it to a total of 7,541 pieces in total.
Where these pieces go, you may wonder to the interior of the ship. Every wire and nick is there. Open the top up, and inside you will find the kind of details that fans will drool over. The Dejarik table, a full engine room, and hyperdrive, Luke's training helmet, it is all there. It even has minifigures from both the original and sequel trilogy.
Final Thoughts
The biggest LEGO set is meant for the best of the best. No one under the age of 16 should try to make this unless they are confident in their skills. Even for those who are 16 and up, be prepared to spend $800 to buy this behemoth. Once it has been finished after weeks or months of work, though, it will be worth the effort.
Summary
Article Name
The 20 Biggest LEGO Sets Ever Released (Updated 2019)
Description
Find the 20 biggest LEGO sets ever released (updated 2019), including huge sets from Star Wars, Ninjago, Technic, The Movies, Creator and more!
Author
Publisher Name
Publisher Logo