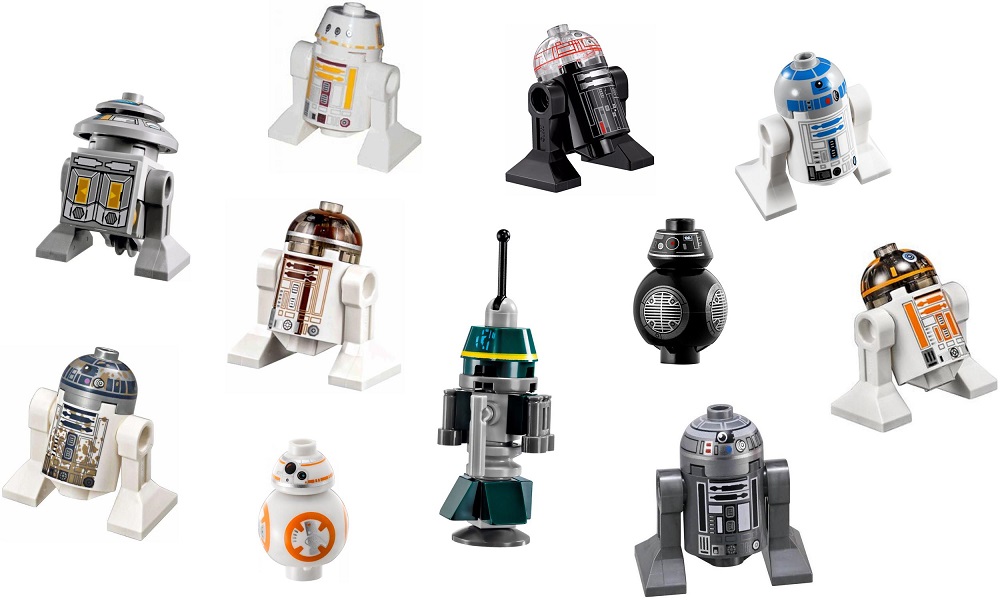 Hey guys! Today I'm going to be taking a look at all the LEGO Star Wars Astromech Droids released since the theme's beginnings in 1999. There have been more than 40 LEGO Astromech variants released, which reflects the vast and diverse nature of the LEGO Star Wars universe. Let's take a look at them!
You may also want to take a look at the Best 15 LEGO Star Wars Sets as chosen by BrickMaster001.
Also, thanks to this comment from a reader: "A surprisingly thorough article. I think it bears mentioning that early astro droids only had printing on the top of the dome, since LEGO hadn't yet figured out how to print accurately and consistently across the entire curvature of the dome. Sometimes you still do get a droid with slightly off-center printing."
R2-D2 (Original 1999 variant)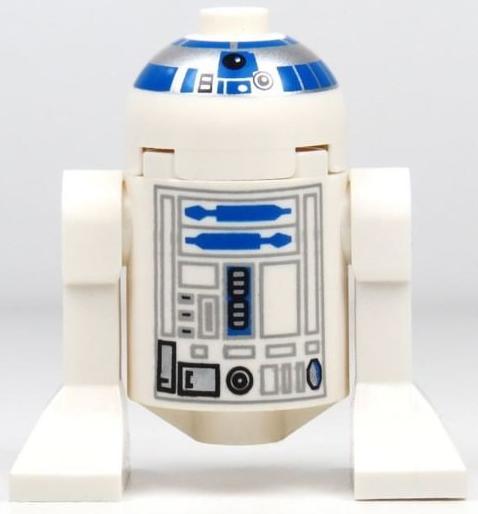 We begin with the OG droid himself, R2-D2. This figure was one of the first-ever LEGO Astromechs released in the LEGO Star Wars theme, appearing in three 1999 Star Wars sets (X-wing Starfighter, Mos Espa Podrace, and Naboo Fighter). He continued making appearances in various LEGO Star Wars sets until 2008, where he was updated. His last set appearance was in 7680 The Twilight, a 2008 Clone Wars set.
R5-D4 (Original 1999 variant)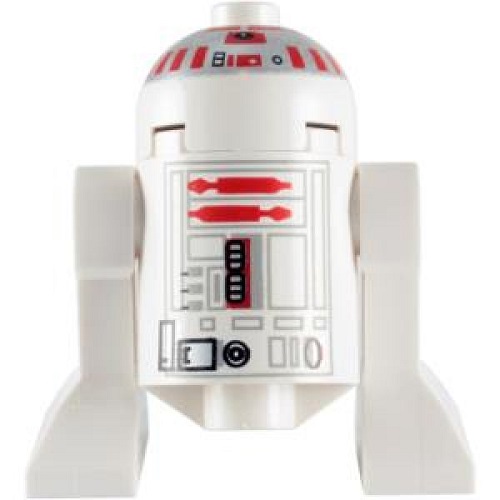 The only other LEGO Astromech Droid released in 1999 was this little guy, R5-D4. He was a color-swapped version of R2-D2, with red and silver highlights on a white body. This figure appeared in 7150 TIE Fighter & Y-wing (plus its 2003 and 2004 re-releases), 7180 B-wing at Rebel Control Center, 10134 UCS Y-wing Attack Starfighter, 7259 ARC-170 Fighter, and 7658 Y-wing Fighter.
R5-D4 (Sandcrawler variant)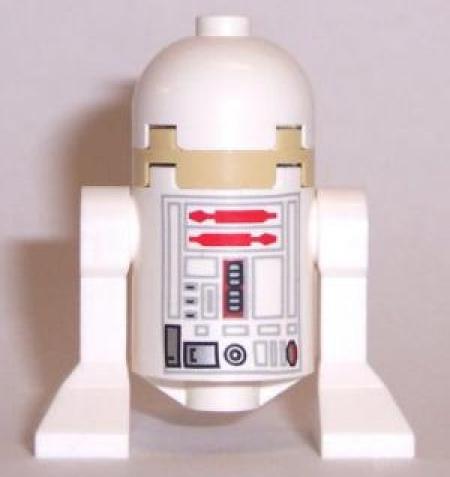 There was also a variant of R5-D4 that was released in the 2005 LEGO Sandcrawler set. It had the same torso and legs but interestingly enough it sported an unprinted head with a tan 2×2 round plate in between the body and head. I wonder why LEGO chose to make a new variant of the figure.
R1-G4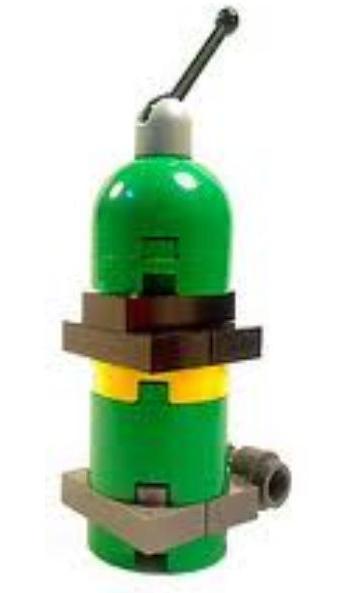 Just like the in-universe Jawa Sandcrawler carries many droids from place to place to sell, the 2005 LEGO Sandcrawler came with a number of droids. One of these is fully brick-built, but still qualifies as an astromech droid, falling under the rarer R1 Astromech category. This is R1-G4, which has a bright green color scheme and a tall, cylindrical body. The only thing that really resembles an astromech (to me at least) on this variant is the dome piece used at the top.
R2-D2 Serving Tray Version (2006 variant)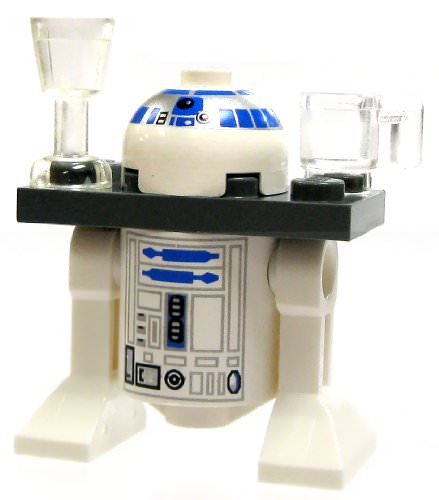 Then, in 2006's Jabba's Sail Barge set, there was a new variant of R2-D2 released. It was still the same core minifigure as the 1999 R2, but it now had a 2×4 plate inserted between the head and body to represent the serving tray that R2 is equipped with in Return of the Jedi. There are also a couple of drinks on the tray for Jabba's friends to choose from.
R2-D5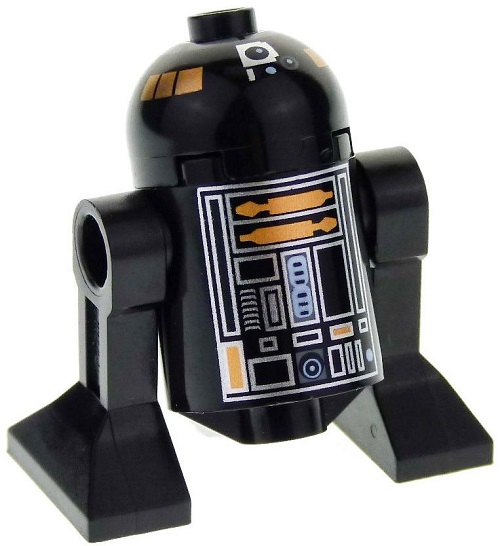 Our first Imperial astromech droid makes an appearance; this is R2-D5, an all-black astromech droid who appeared in the 2006 LEGO Star Destroyer set. I like the black and bronze coloring and I think this astromech looks pretty great overall. It is interesting, however, that LEGO actually misnamed this droid in the set – he is actually R2-Q5 and not R2-D5.
R2-R7
Up next is R2-R7, a trusty astromech who served on board the Naboo Frigate in The Phantom Menace. He has a mostly white color scheme with some green highlights. Despite looking pretty simple, I like this droid quite a lot. The simple white color scheme matches the green highlights very nicely and makes for a good-looking droid overall. Although this guy was technically never re-released, there was an astromech released in 2014 that looks very similar. But we'll get to him later 🙂
R2-Q5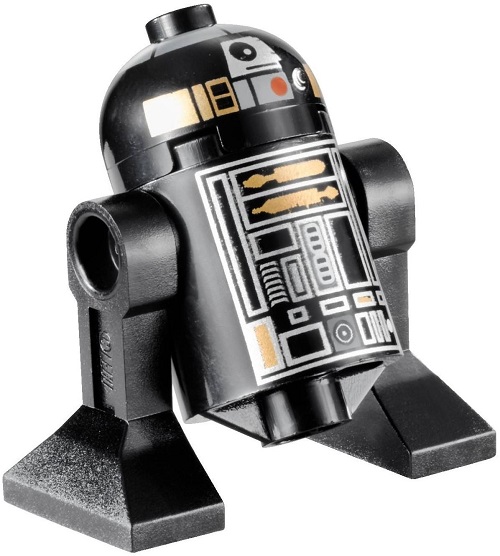 Here we have R2-Q5, which is basically an updated version of the R2-D5 astromech with the correct name. This minifigure has the same all black color scheme but was in the newer 2008 Astromech Droid style. He appeared in the 2008 UCS Death Star and the 2011 LEGO Star Wars Advent Calendar.
R2-D2 (Updated 2008 variant)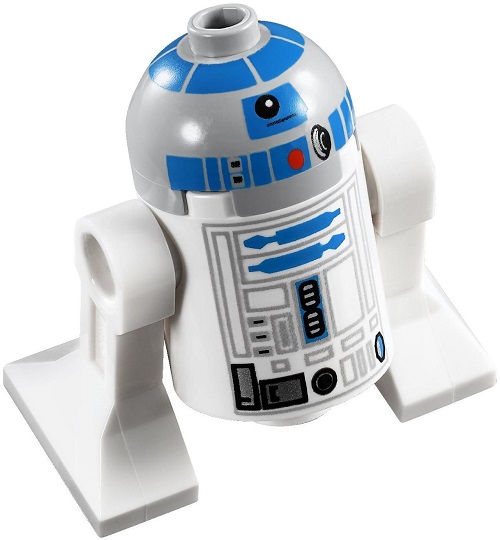 Next up is the 2008 updated variant of R2-D2, who first appeared in the 2008 UCS Death Star set before going on to appear in 9 other sets. He was revised to sport the newer 2008 printing style of astromech droids, with a new light gray head dome piece.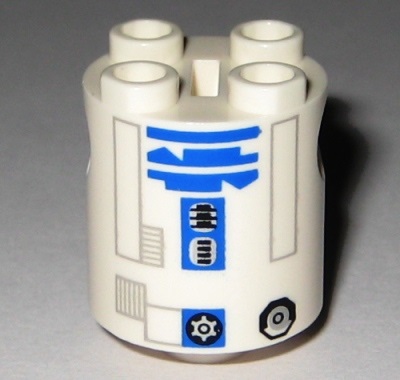 A variant of the 2008 R2-D2 figure was released in the 2009 set Anakin's Y-wing Starfighter. It had the updated head and the normal legs, but it had a new torso print which had a simplified design. This was intended to be a simpler droid body design for The Clone Wars TV show, but LEGO switched back to the regular R2 figures not long after, leaving this Clone Wars version of R2 exclusive to the 2009 Y-wing set.
R7-A7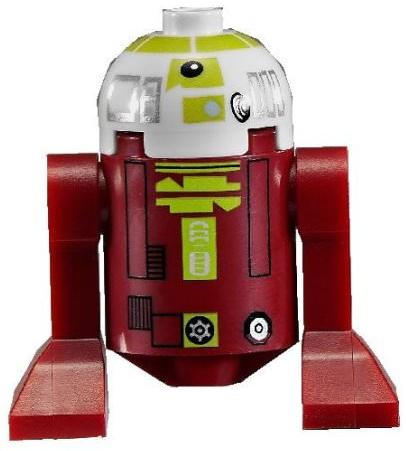 Anakin's apprentice Ahsoka Tano owned an astromech droid in The Clone Wars TV series as well – R7-A7. Her droid was made into a LEGO astromech droid in one 2009 LEGO Star Wars set – Ahsoka's Starfighter and Vulture Droid. It had a simplified Clone Wars-style droid body print, along with a dark red, white, and lime green color scheme which really stands out amongst other LEGO Star Wars astromech droids.
R7-D4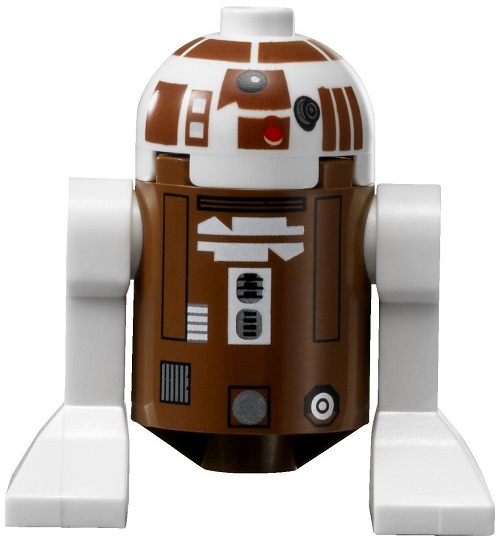 One of the many amazing things about the Clone Wars TV show was that it greatly expanded the lore of the Star Wars prequel era and gave a lot more development to the various characters. One such character who got a lot more development was Jedi Master Plo Koon, who was not only a great pilot but a mentor figure to Ahsoka Tano. Anyway, Plo Koon got a LEGO Jedi Starfighter set dedicated to him in 2010, and with it came his astromech droid, R7-D4. The droid has a brown and white color scheme and follows the simplified Clone Wars astromech droid print style.
R4-P44
Another astromech droid appeared in 2010 in the ARC-170 Fighter set. This is R4-P44, the droid who probably has the biggest number in his name (at least as far as I'm aware). This droid sports a dark green and white color scheme, with gunmetal grey panels on his head. I think he looks pretty good and it's cool to see that this droid is in the normal droid style and not the simplified Clone Wars style.
R2-Q2 (2011 version)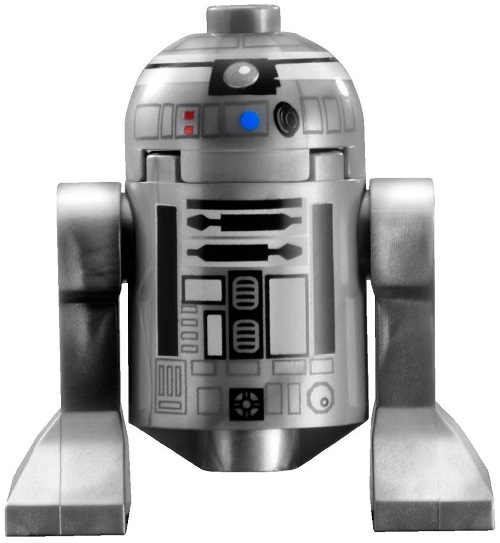 Up next is a droid who is pretty popular in the LEGO community – R2-Q2, an all-silver Imperial droid that appeared in a 2011 Imperial V-wing Starfighter set. This droid is fully silver and has some black astromech printing on it, and I think he looks pretty great. The printing is also the normal, more detailed astromech print style and not the simplified Clone Wars style, as the set that this droid came in was not a Clone Wars set. I think the reason this droid was so popular was because of its metallic coating – I myself think it looks pretty great too!
R8-B7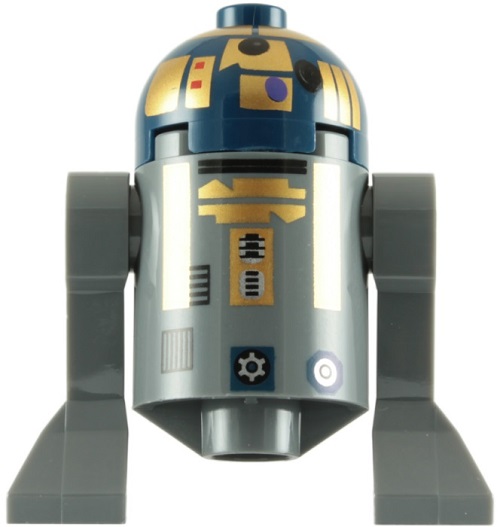 This droid here is R8-B7, but you might not recognize him. Well, it's because he's pretty obscure, appearing in only one LEGO set ever – Mace Windu's Jedi Starfighter. Yes, this droid is, in fact, Mace Windu's astromech. This droid has the simplified Clone Wars printing style and has a fairly dull dark grey and dark blue color scheme – at least there is some gold printing I guess. Still, despite being a fan of Mace Windu, I'm not too huge a fan of this guy.
R5-F7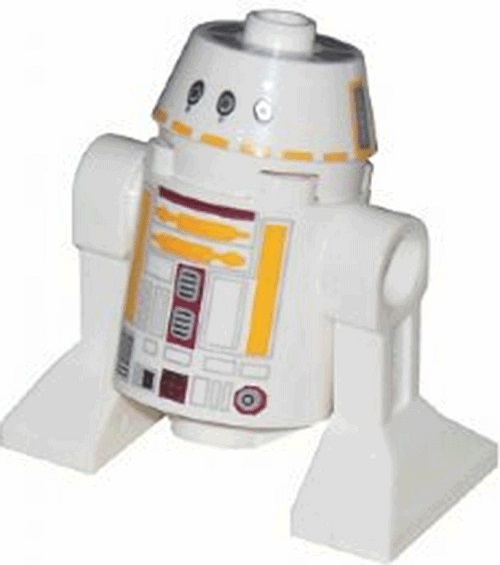 Up next is R5-D7. This guy appeared in two Star Wars sets – 9495 Gold Leader's Y-wing Attack Starfighter and 75023 Star Wars Advent Calendar – and is Gold Leader's astromech. He has a white color scheme with some yellow on it, matching the color scheme of a Y-wing starfighter. His head is also conical instead of domed, since he is an R5 droid.
R5-D8 or R5-D4 (updated version)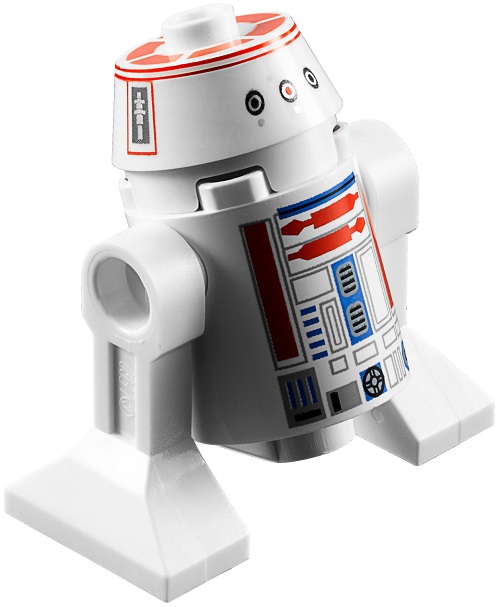 This astromech droid here initially appeared in the 2012 LEGO X-wing Starfighter set as R5-D8, Jek Porkins' astromech droid. However, he later reappeared in the 2014 LEGO UCS Sandcrawler set as R5-D4, an update of the original one from 1999. He has the conical R5 head, with printing on top and all around. The front of the droid body is also printed, but not the back – sadly, no LEGO astromech droid has had back printing, at least so far. Hopefully one day, that will change.
R5-J2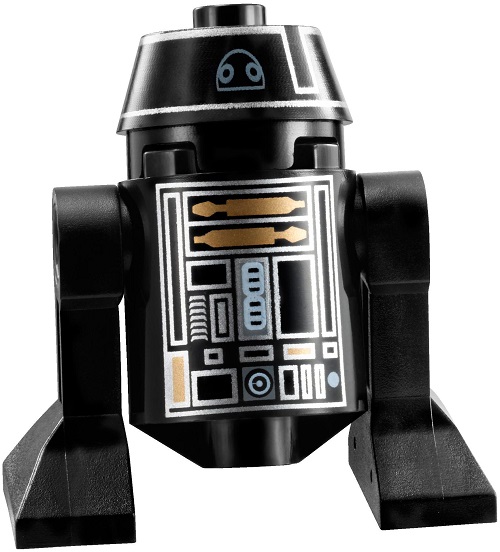 Another LEGO R5 droid appeared in 2012. This is R5-J2, an all-black Imperial astromech droid that came in 9492 TIE Fighter. This droid also had a conical head piece in black, with a simpler head design. Fun fact: his torso is actually the exact same print that R2-D5 and R2-Q5 have! I think it's detailed enough though and looks perfectly fine.
T7-O1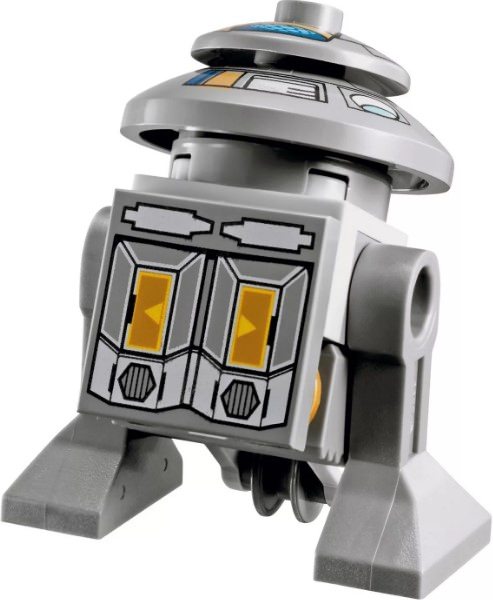 Another very interesting astromech droid appeared in 2012. This is T7-O1, who appeared in 9497 Republic Striker-class Starfighter. This character is actually from the non-canon Old Republic game, and is supposed to be a predecessor to the modern astromech droids. It has three printed parts (two on the head, one on the body) and a boxier body compared to regular astromech droids. In addition to the normal astromech droid legs, T7-O1 alos has a third wheel at the back. When the droid body is hinged forward, the wheel can make contact with the ground, allowing the droid to roll around. It's a cute feature that only appears on this droid in particular, presumably because of its larger size.
R3-D5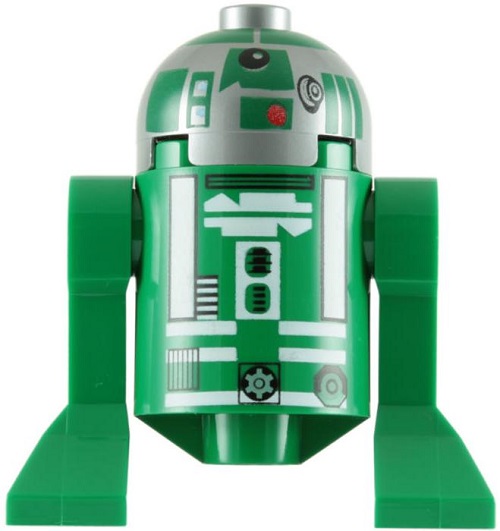 Another Jedi received a LEGO Jedi Starfighter set in 2012 – Saesee Tiin. The Jedi Master had a green angular starfighter that came with a green and silver color scheme. The torso print is still a bit on the simpler side since it is a Clone Wars set, but it still looks decent and fairly unique with a majority green color scheme. The silver-color head looks quite nice too.
Snowman R2-D2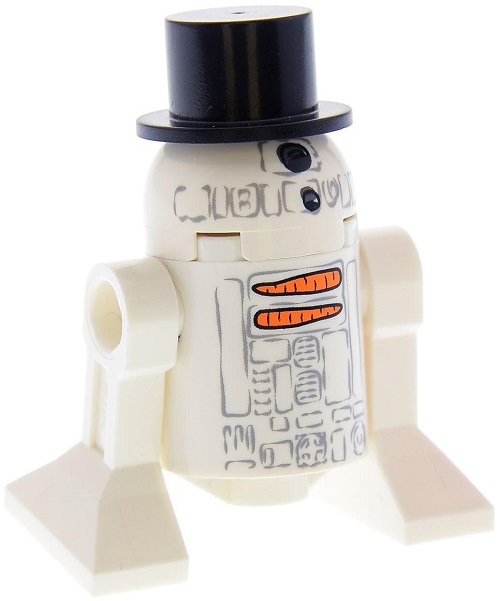 2012 really seemed like a year for Astromechs. In December of 2012, one more astromech was released in the 2012 LEGO Star Wars Advent Calendar – a snowman version of R2-D2. He is all white to show that he is made of snow, with lumps of coal cleverly used to show his "eyes" on his head, while two carrots are used for the opening panels on the body. There are some faint light grey prints on the body and head to represent indents made in the snow body for the astromech designs. He also has a black top hat.
UCS R2-D2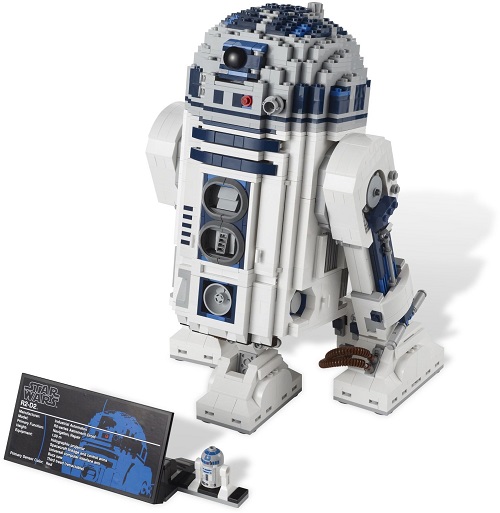 One of 2012's UCS Star Wars sets was a big brick-built LEGO version of R2-D2. This droid stood at over 31 cm tall and has spawned many other fan creations of other LEGO Star Wars astromechs.
R2-D2 Serving Tray Version (2013 variant)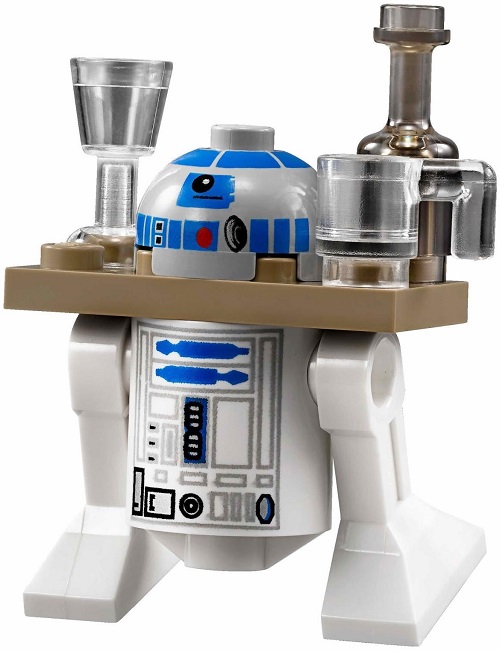 2013 had another LEGO set version of Jabba's Sail Barge, and accordingly there was a new version of serving tray R2-D2. This figure sported the newer print style of R2-D2 but had a dark tan 2×4 plate inserted between the head and body, the same technique as the 2006 version. There were also two cups and one bottle mounted on the tray.
R4-P17 (2013 version)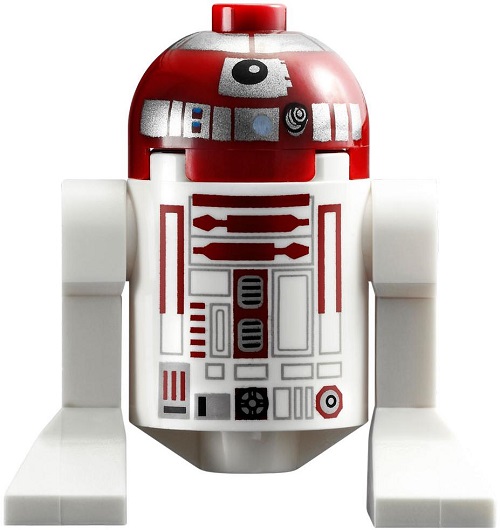 R4-P17, Obi-Wan Kenobi's astromech droid in Episodes II and III, had only appeared as an astromech head on Obi-Wan's Jedi Starfighter and Interceptor in 2002 and 2005. The full figure was finally released in 2013, as part of a planet set. It had a dark red dome head and a white body. The head had gunmetal grey panels printed onto it, while the body had the standard astromech body design with dark red highlights.
R4-G0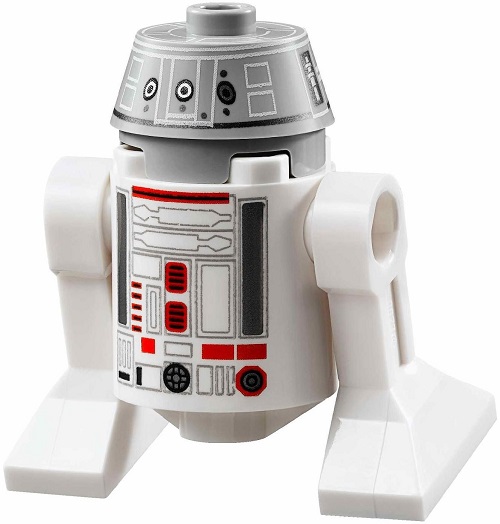 The Yoda Chronicles was a LEGO Star Wars special series of episodes, which featured a new Force-enhanced clone named Jek-14. Jek-14 flew a stealth starfighter in the time of the Clone Wars, and he had an astromech named R4-G0 who accompanied him on those flights. R4-G0 had a conical grey head and a white body with red and grey accents.
R2-D2 (2014 variant)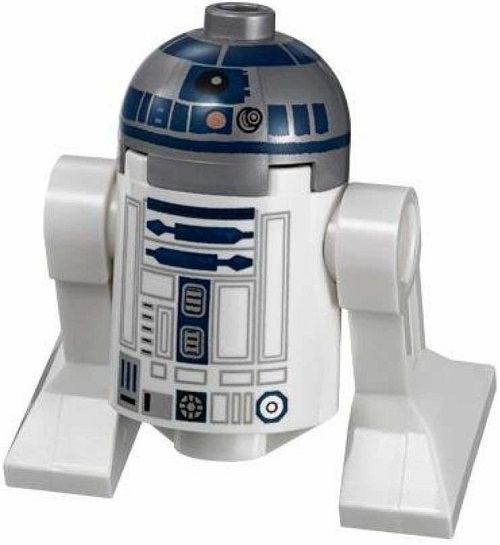 The famous droid R2-D2 received an update in 2014. His head color was changed to gunmetal grey and he now had dark blue printing on his body and head. I much prefer this slightly darker version of R2-D2, which first appeared in 75038 Jedi Interceptor.
Unnamed Astromech #1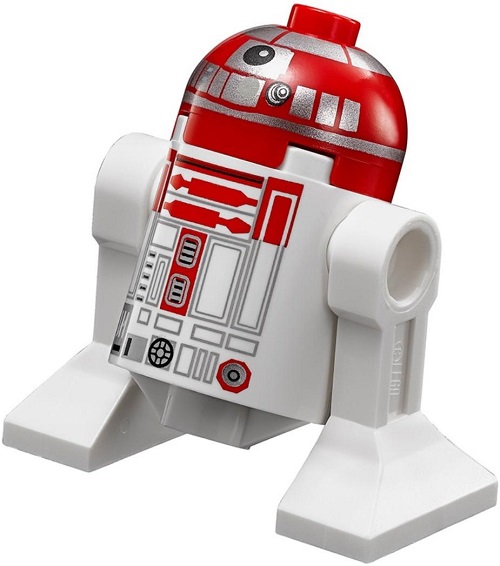 An unnamed astromech droid appeared in another 2014 LEGO set, 75039 V-wing Starfighter. It had a simple bright red and white color scheme that still looked pretty good. This droid would later appear in a 2015 set, Anakin's Custom Jedi Starfighter, where he would help Anakin to pilot the Starfighter in a battle against Asajj Ventress.
R2 Unit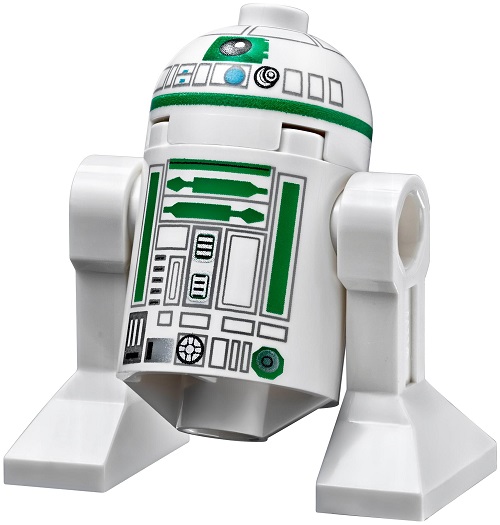 An unnamed R2 Unit appeared in 2014's LEGO UCS Sandcrawler set. It had a mostly white color scheme with green accents, and despite not being officially named in the set, it bears a strong resemblance to 2007's R2-R7 figure. I quite like the color scheme of this figure, it's a shame it's exclusive to the extremely large and expensive Sandcrawler set.
R1-series droid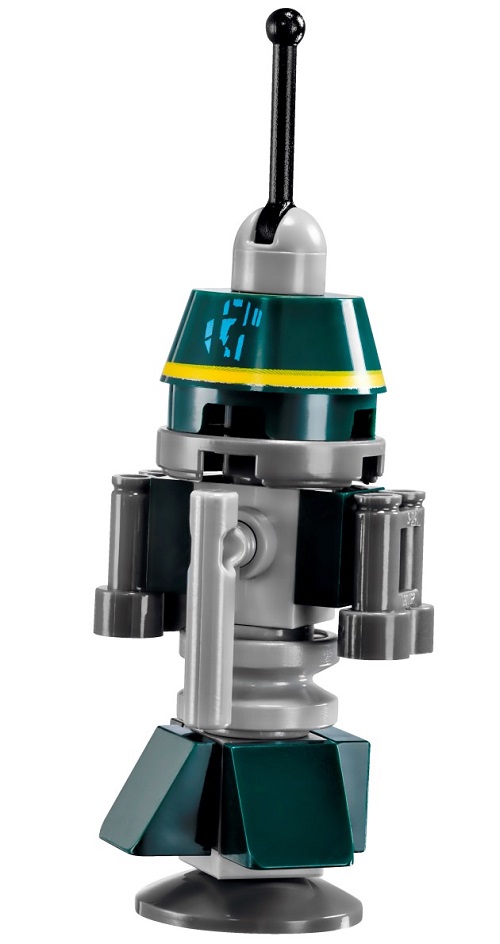 Another droid appeared in the 2014 UCS Sandcrawler set – this R1-series droid. It bears a resemblance to the 2005 droid R1-G4, with a conical astromech head, tall body, and dark green/grey color scheme. I like all the added details like the binoculars pieces, the wheel, and the antenna on top.
C1-10P or "Chopper"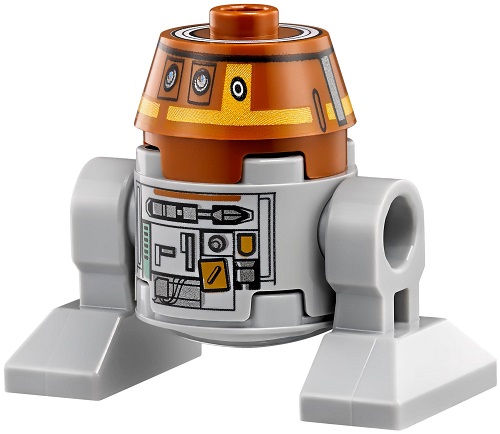 The 2014 LEGO Star Wars summer wave would debut a new style of astromech droid for the TV series Star Wars Rebels. This droid was named Chopper, and he had a much much shorter body. A new printed 2×2 round brick with Technic holes on either side was used for the body, along with a new shorter version of the astromech legs. Chopper had a dark orange version of the conical astromech droid head. Despite being much shorter and stockier, Chopper is still undoubtedly recognizable as an astromech droid.
Unnamed Astromech Droid #2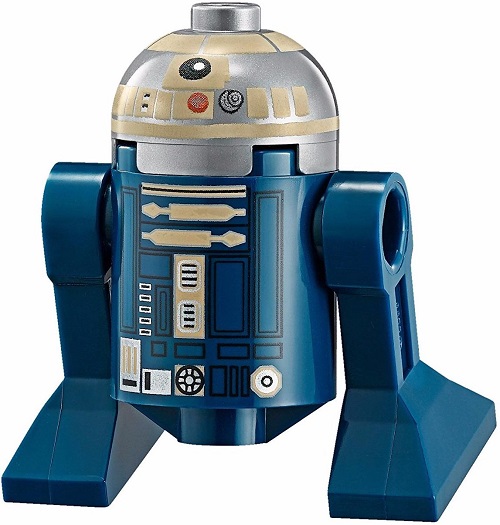 Another unnamed LEGO astromech droid appeared in 2014. This was a dark blue and silver droid with some printed tan highlights. He appeared in the 2014 Jedi Scout Fighter set as Jek-14's astromech companion. Currently, this is the only LEGO astromech with dark blue legs.
Festive Christmas Astromech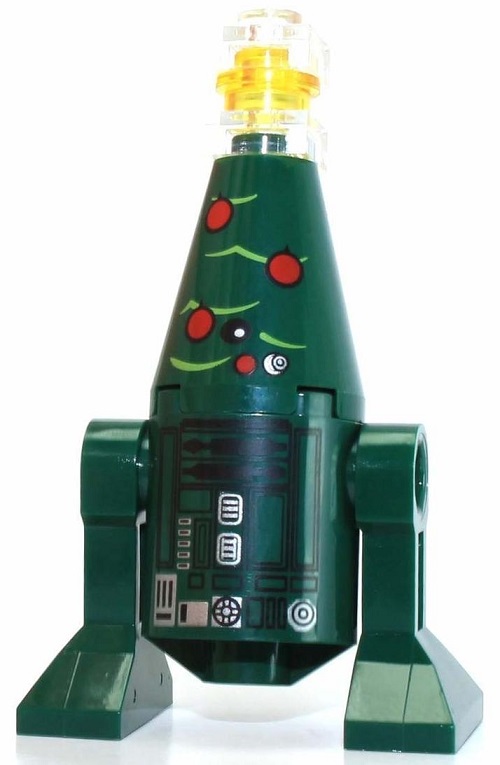 This Christmas LEGO astromech appeared in the 2014 LEGO Star Wars Advent Calendar. It has a dark green body, with a normal lower body and legs. However, the head is a tall cone, which very cleverly represents a Christmas tree. A translucent yellow holocron is used on the top of the droid's head to represent the star on top of the Christmas tree. It's a pretty clever, unique, and innovative droid in the history of LEGO astromechs.
Unnamed Imperial Astromech Droid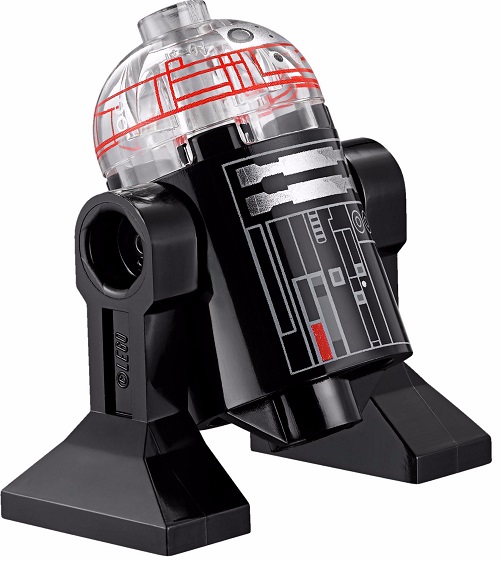 An unnamed LEGO Imperial astromech droid appeared in 75106 Imperial Assault Carrier. It was very noteworthy for being the first LEGO astromech to have a translucent head. The head was clear with red printing on it, while the rest of the body was black in color to show its Imperial loyalty. Its body printing was a little bit simplified, as it was from the Star Wars Rebels TV show.
BB-8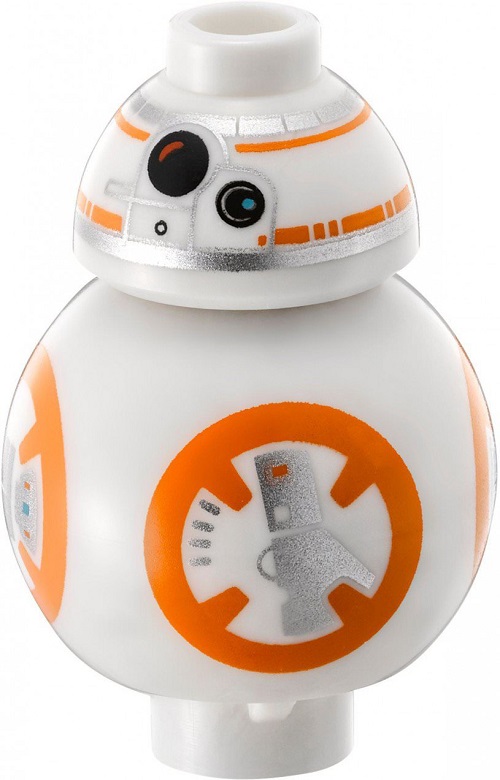 In the fall of 2015, the LEGO Star Wars: The Force Awakens wave was released, and it introduced this new cute little astromech droid BB-8. He was made from two new pieces – one small domed head for the head and a spherical body with an anti-stud at the bottom. He was very small, fitting into a 2×2 space, but still was pretty detailed.
Reindeer R2-D2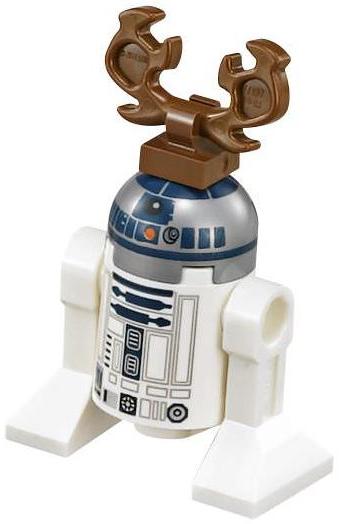 For 2015's LEGO Star Wars Advent Calendar, we got a funny Christmas version of R2-D2. It was basically the normal 2014 R2-D2 figure with some reindeer horns stuck at the top. The reindeer horn piece was initially from the LEGO Ninjago line, where it was used as a samurai helmet ornament, before being recolored into brown for this version of everyone's favorite astromech droid.
R2-D2 (2016 variant)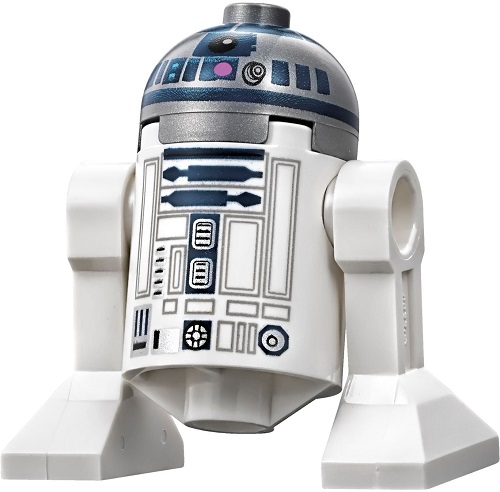 In 2016, R2-D2 was updated very slightly into the variant that is still currently being used in 2018. The droid figure was basically the same all around, but the small dot on the head was updated from orange to pink. I wonder why LEGO made that change, but the figure still looks fine so I'm happy with it.
R4-P17 (2016 variant)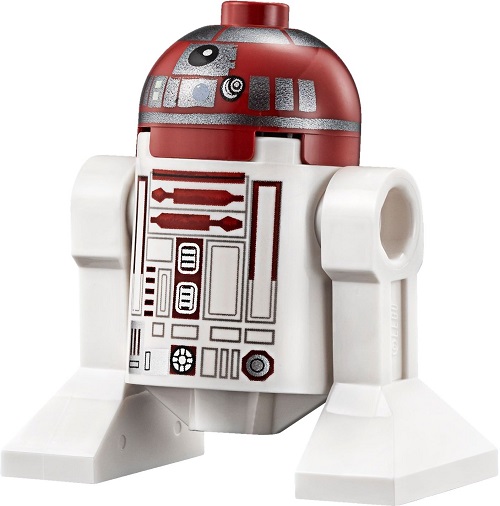 Obi-Wan Kenobi's astromech droid R4-P17 was also updated in 2016 with the release of a new Obi-Wan's Jedi Interceptor set. This droid looks very similar to the 2013 one, and is largely the same, except for one small change – a thin gunmetal grey band has been added to the base of the head print. This updates it to make it fit in with the modern style of LEGO Star Wars astromech droids.
R3-A2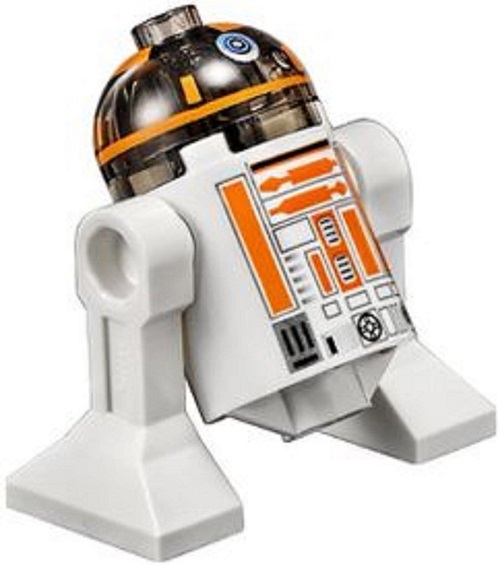 2016 brought along with it what is likely the most controversial LEGO Star Wars set ever, 75098 Assault on Hoth. While we're not gonna discuss the qualities of that set today, that set did create one new astromech droid design – R3-A2. This Rebel droid had a translucent brown head and orange printing, making it pretty unique in the LEGO Star Wars astromech droid collection.
R3-M3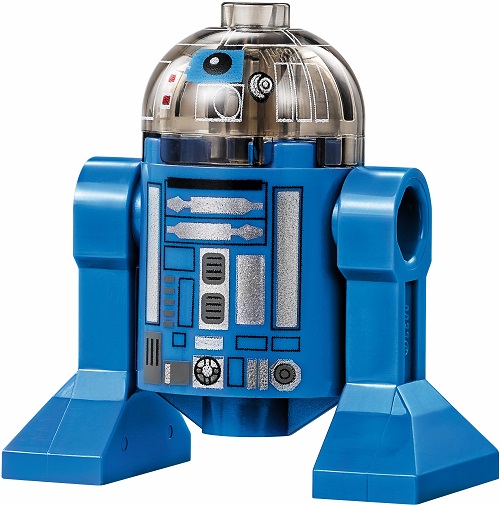 2016 had not just one, but two controversial LEGO Star Wars UCS sets. ("This is getting out of hand! Now there are two of them!") The other 2016 UCS set was 75159 UCS Death Star, basically a re-release of 2008's 10188 UCS Death Star set with new figures and some minor changes. One of the new figures was R3-M3, an Imperial astromech droid. This droid had a translucent head (as it was from the R3 astromech droid series) and a bright blue body with some silver printing on it. Nothing on this droid looks explicitly Imperial, so you can definitely use it in your normal LEGO Star Wars MOCs and dioramas if you wish.
R3-S1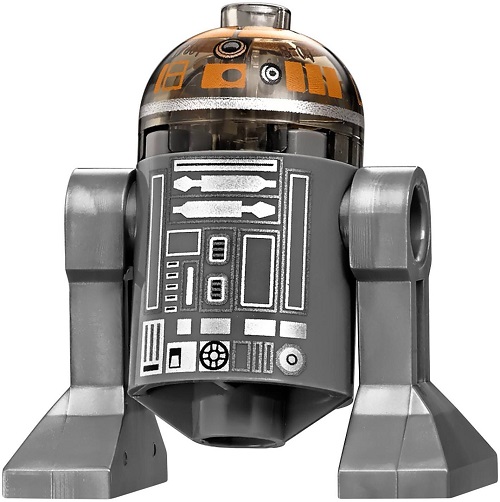 Another LEGO R3 astromech droid appeared in a 2017 LEGO Rogue One set: 75172 Y-wing Starfighter. This was R3-S1, a rebel astromech droid. He had a translucent brown head with some orange printing, along with a dark grey body.
R3-M2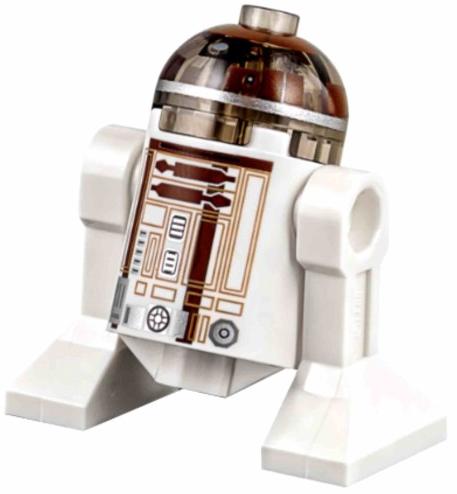 It appears that LEGO really liked making LEGO R3 droids during this time, with another R3 astromech droid being released in 2017. R3-M2 appeared in a promotional Rogue One polybag, with a translucent brown head and brown printing on the torso and head. The droid also had a display stand in the polybag it came with.
BB-9E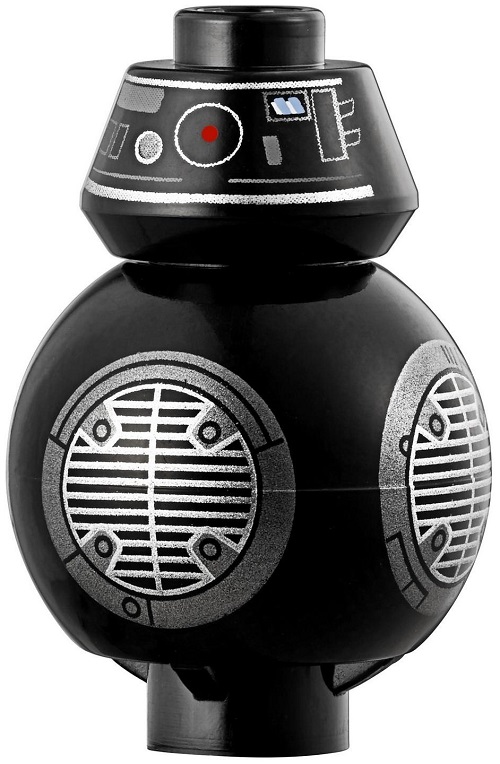 In the fall of 2017, the LEGO Star Wars: The Last Jedi's first wave of sets was released. In those sets, an evil partner of BB-8 was released. BB-9E was an all-black First Order droid who appeared in two sets – 75179 Kylo Ren's TIE Fighter and 75190 First Order Star Destroyer. This droid played a minor role in the movie, helping to catch Finn, Rose, DJ, and BB-8 on board the Supremacy. It had a new conical head piece but it reused BB-8's spherical lower body piece.
Santa BB-8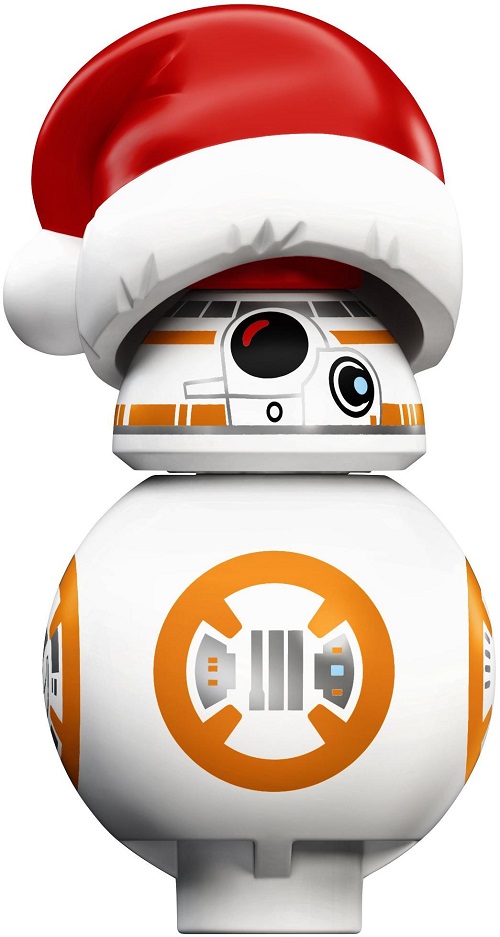 In 2016's LEGO Star Wars Advent Calendar, the special Christmas figure was BB-8 with a Santa hat attached to his head. It's cute, but quite a few fans were disappointed as if you remove the hat there's nothing really Christmassy about the figure, especially considering this was supposed to be the special Santa figure.
Brick-Built R2-D2 Promotion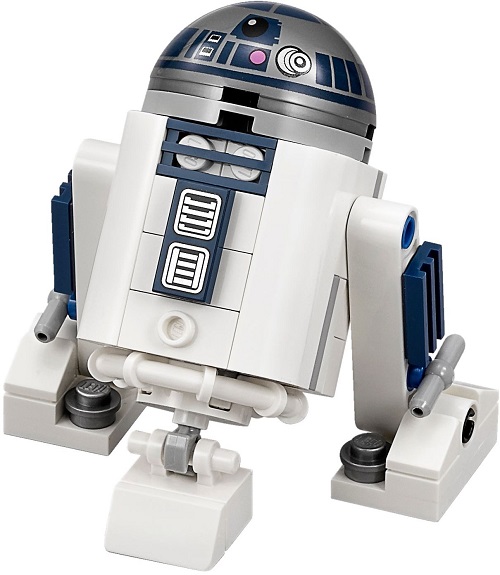 For 2017's May the 4th promotion, a small brick-built version of R2-D2 was released. He had a printed 4×4 dome and three poseable legs. The proportions are a bit wonky but I guess he is still fun to play with.
75187 BB-8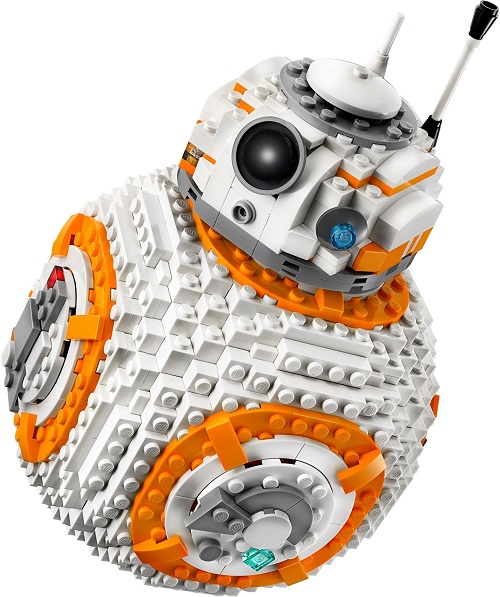 In 2017's The Last Jedi wave, there was a set named 75187 BB-8, which was basically a brick-built version of the cute astromech in a similar style and scale of the 2012 UCS R2-D2. This BB-8 had several functions, like a bobbing head, a thumbs-up torch, and a black display stand.
R3-T2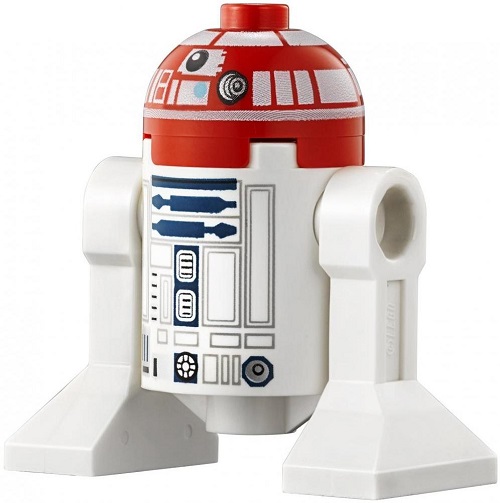 Moving on to 2018, we got this astromech droid R3-T2 in 75198 Jawa Battle Pack. If it looks familiar, that's because it is – it has the 2014 red astromech droid's head stuck onto an R2-D2 body. A droid like this did actually appear in the background of one Tatooine scene, and it did actually use R2-D2's body, but I wish LEGO chose another droid instead of this one as it feels a bit lazy to me.
R2-D2 (muddy variant)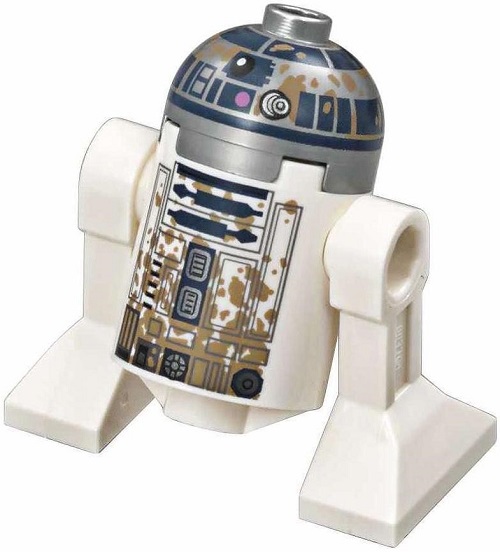 A muddy version of R2-D2 appeared in a 2018 summer LEGO Star Wars set, 75208 Yoda's Hut. It had the base design of the normal R2 figure but had some printed mud printed onto the head and front of the body. I appreciate the effort to make the droid custom to the Dagobah scene, but I think that it looks weird with its pristine white legs and back of the body. Hopefully one day LEGO will start printing on the backs of LEGO astromech droid bodies.
R2-BHD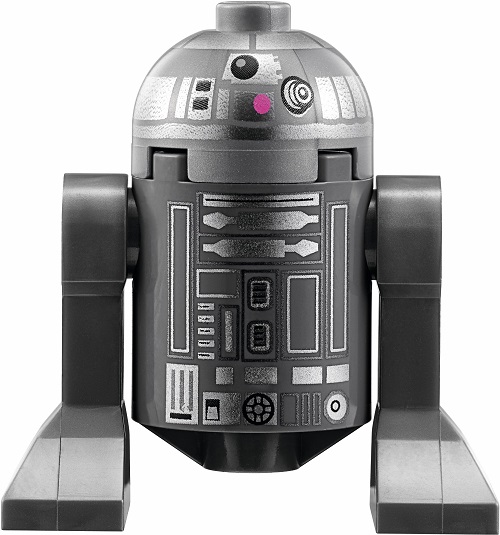 For 2018's LEGO UCS Y-wing Starfighter, a new astromech droid figure was created. This was R2-BHD, with a silver head and a grey body. There was silver printing also, creating a very grey but still pretty interesting astromech droid exclusive to the set. Despite its relatively plain color scheme, I still like how this droid looks.
R5-A2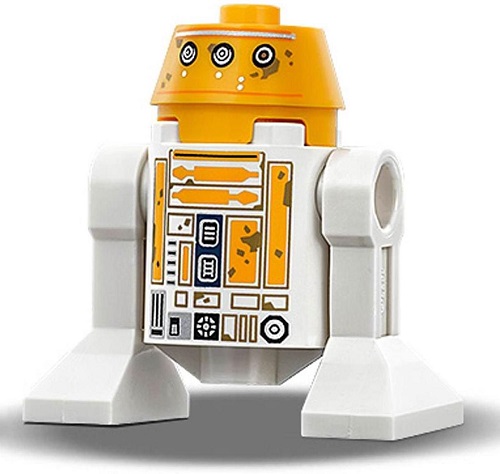 The LEGO Star Wars 2018 summer wave had a new regular retail Sandcrawler set, and in it appeared one new astromech droid, R5-A2. This guy had a flame yellowish orange conical head and a white body. The body had some printed flame yellowish orange designs to match the head's color scheme, and there was some dirt printed on the body and head of the droid to reflect Tatooine's dusty body.
R2-Q2 (2018 version)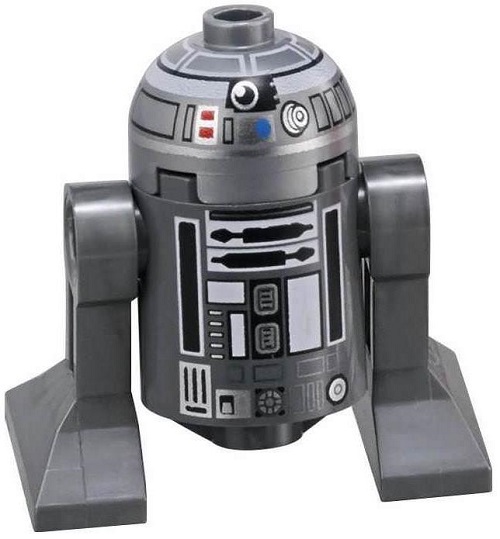 The most recent LEGO astromech droid figure at the time of writing is 2018's R2-Q2 update, which appeared in 75218 X-wing Starfighter. The droid had an all-silver color scheme, with new printing on the head and torso. Interestingly, this version of R2-Q2 was not an Imperial astromech droid, but instead was Biggs Darklighter's astromech companion in the Rebel attack on the first Death Star.
Brick-Built BB-8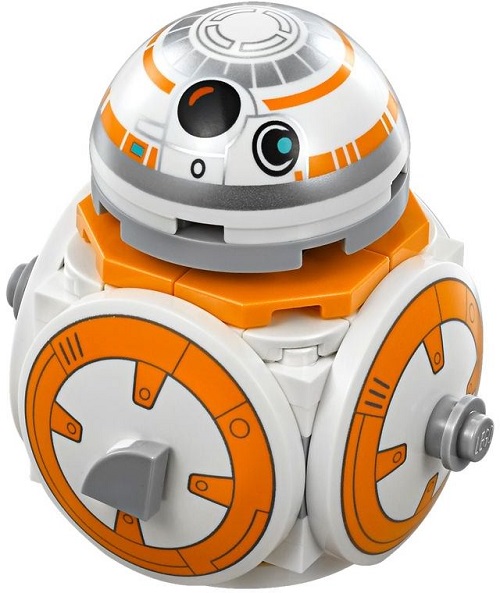 For 2018's May the 4th promotion, LEGO continued the brick-built droid tradition, with a mini brick-built version of BB-8. It had a printed 4×4 dome and some 4×4 radar dishes used on the sides of the body. If you ask me, I don't think LEGO did the spherical shape that well, but I guess they tried.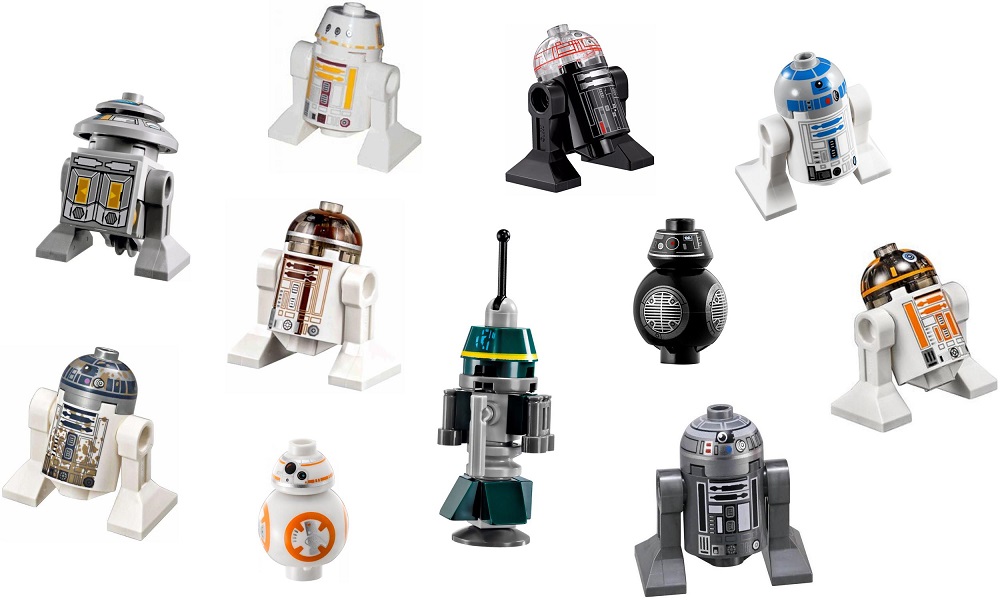 That's it for this post! I hope you enjoyed this look at all the LEGO Star Wars Astromech Droids throughout LEGO history. It was a pretty ambitious project for me but I'm glad I took on the challenge as it was pretty enjoyable!
Let me know what you think in the comments below! Thanks for reading, I'm VaderFan2187, and I'll see you next time on BrickPals.com!
Summary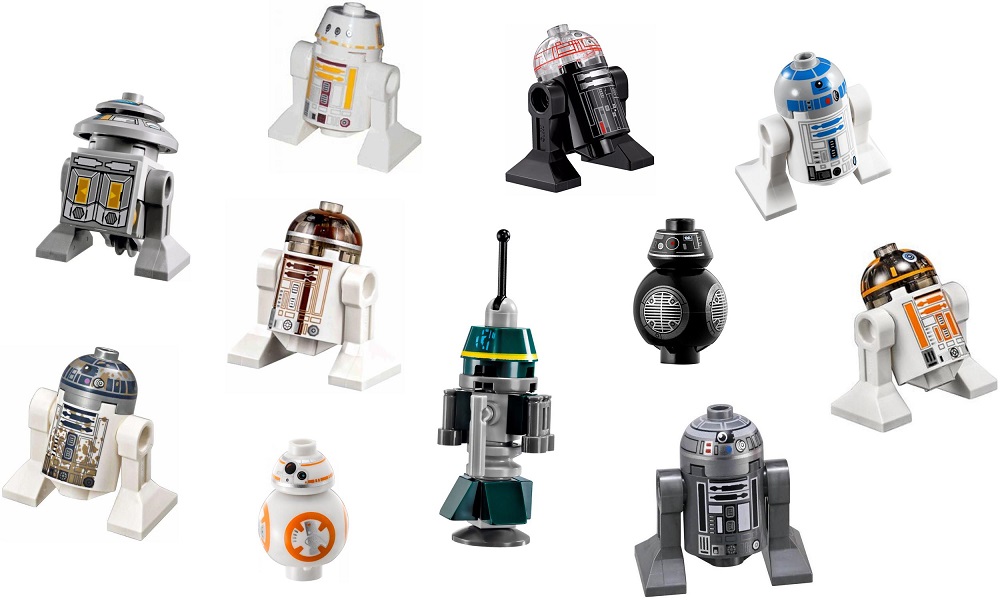 Article Name
A History of LEGO Star Wars Astromech Droids
Description
See all the LEGO Star Wars Astromech Droids released since the theme's beginnings in 1999. There have been more than 40 LEGO Astromech variants released!
Author
Publisher Name
Publisher Logo