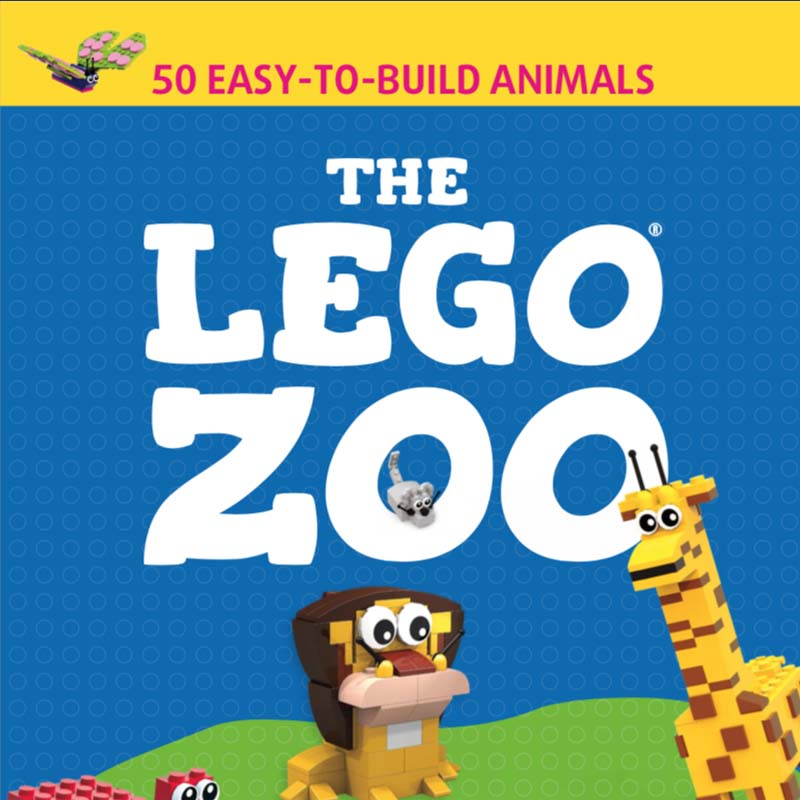 Love animals? Love LEGO? Then The LEGO Zoo book is a great choice, as it will show you how to build a variety of animals with LEGO bricks. Let's take a look at the book and what it has to offer.
Book Review: The LEGO Zoo
The LEGO Zoo book is a comprehensive guide on how to create animals out of regular LEGO bricks. Written by Jody Padulano, a proud AFOL (adult fan of LEGO), and published by No Starch Press, this book offers 50 projects requiring different skill levels, with detailed instructions and a colourful guide — both in visual and text format. With over 200 pages, this book is a nice source of learning and enjoyment for young LEGO fans.
About the book
The format of the book is perfect for children. It's rated to ages 5 and up, and it shows. The instructions are simple and clear, with a snippet before each project and throughout. Beyond the visual instructions, it offers tips, tricks and other building suggestions along each project, as well as commentary about the animals built.
The projects come in chapters, with each chapter getting progressively more difficult. There are five in total, each with a different number of animals. This offers a learning curve for new builders, as they won't be thrown into a complex design right away. Rather, they will increase their skill and learn as they progress from a simple caterpillar to a rather awesome shark — all with instructions appropriate for the level of complexity shown.
One interesting aspect within this book is the educational tone it takes. Before the projects, the book offers a terminology guide, so that people completely new to the LEGO world can become familiar with some popular names and frequently used words. After all, playing with LEGO doesn't mean you know every name!
It also offers tips, which is a great addition. It works as a reminder that you don't have to follow the projects exactly. This opens the door to creativity and exploration beyond the rather numerous examples provided… which is the point of LEGO, after all.
Because it is aimed at very young children, instructions have a very childlike zest to it. Richly illustrated, with minifigures providing suggestions and interesting factoids about the animals, it should prove engaging and entertaining for a younger audience.
The animals
The list of animals is quite comprehensive — it does earn its "zoo" name. The book goes from insects to mammals, to fish, to reptiles, animals domestic and wild, making sure there's something for everyone. The results, of course, are quite blocky — but still easily identifiable. Do not expect animals such as those that come with other sets, as that is not what the book is about.
Each build comes with a snippet about the animal being built. Some animals (such as the chicken) also have thought-provoking suggestions (can you build eggs?) or ideas for alternatives using the same design.
This, of course, offers a great stimulus to children to experiment with and use their creativity in making other animals and creatures beyond those offered in the book. There will definitely be further things to do even when you build all projects.
Techniques and materials
The book will introduce new techniques and call attention to them as they appear. While some will be quite simple, sometimes they're not quite as obvious, so younger children may need their parents' aid in understanding them. This is the only downside of the book, as though it calls attention to certain techniques, it doesn't explicitly show them or tell the reader what exactly they are. As the intended audience can be quite young (5+), this might be a tad confusing for them.
Most projects use regular LEGO pieces (you may want to stock up on round, eye-like pieces if you intend to make all fifty animals). Some, however, include Technic pieces. These are not particularly rare ones, either, but they still appear in some projects, so it's nice to have them on hand. If you don't, the book comes with a list of places where you can acquire the missing pieces, so you have somewhere to start. However, it shouldn't be too difficult to find or have them.
Each project does come with a list of pieces needed. The book also reinforces the idea that children can vary the colours and builds, and offers suggestions on how to "make" bigger pieces from smaller ones. Not only does that help children get creative while building, but it'll also help reassure them the projects are doable even if they don't have all the correct colours and pieces.
Conclusion
The book is well-organized, with the chapters providing a smooth challenge transition. This guarantees readers will not be overwhelmed. The progression appears even within a chapter, as, for example, the fly is more complex than the caterpillar, but not so much that they present a too-large jump in difficulty.
Like other No Starch books, you can buy both physical and digital formats, giving flexibility to potential customers. The illustrations are colourful and add to the childlike theme and appearance of the book.
The suggestions are useful and inspiring. This book is for an audience 5 and up, so some tips might look too simple for an older audience. They are still useful, though, especially to people new to LEGO.
As it comes with a useful list of terminology and suggestions on where to buy pieces, it's also very good to parents who may be new to LEGO themselves.
Children will likely find their favourite in the book. Whether it's a dog, cat, horse or even a dinosaur, there is enough variety to cover a lot of bases. This variety is also useful beyond the basic projects. You can modify existing projects to make new animals. The suggestions come in handy at that.
The only downside found is that some instructions might not be as clear to children, requiring some adult intervention. Some projects use Technic or more specialist pieces (such as horns), though they are not many. They are, however, easy to find pieces, so it shouldn't be too hard to find.
This book is not from LEGO, so you likely will not find it in the LEGO stores or website.
Summary
Reviewer
Review Date
Reviewed Item
Author Rating