Want to build your own LEGO city? The LEGO Neighborhood Book will show you how. This book gives you the basics on how to build your own houses, corner shops, and much, much more.
Review: The LEGO Neighborhood Book 2
The LEGO Neighborhood Book 2 is, as the name suggests, the second of its kind. However, it doesn't mean you need the first to understand its contents. The book is pretty expansive as a guide on how to create your own LEGO city — one neighborhood at a time.
It can, however, be helpful to have read the first book, as it comes up with the building designs themselves. The second book's focus is on connecting these buildings to make comprehensive neighborhoods that feel realistic and organic in fun ways. All buildings are, of course, minifig-sized, so you can populate your town with their own LEGO denizens!
What you'll find
The book separates parts of the neighborhood and explores them one by one. First, you'll see the residential block, and traverse through each house — including the interior, when available. Not all buildings will have a fully fleshed interior, but many do. This includes furniture. The book does have some guidance on how to build some of the furniture — such as pianos and couches.
However, building individual parts is not quite the focus of the book. Rather, unlike other project-style books, this one evaluates a city and what makes it work, as well as how the buildings connect together. The introduction shows how to do that, while the following chapters explore the buildings themselves.
Rather than guide you step by step on how to build these places, you'll find explorations of style and what makes each building unique. For example, what makes an art deco building look art deco? This is the main thrust of the book. Likewise, in larger buildings, you'll see the type of furniture that goes with the exterior style, so it doesn't look out of place.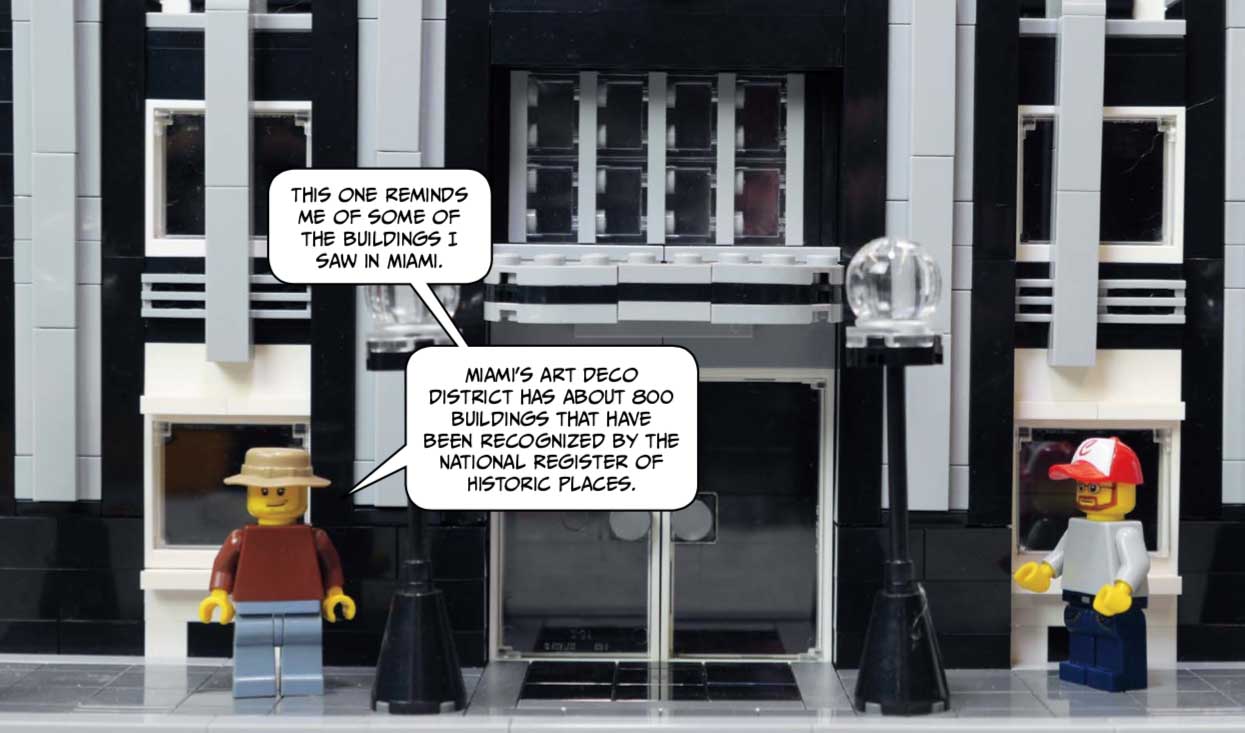 There is a full brick-by-brick guide on how to build a particular building, but it's the only one. Most projects focus on individual pieces of furniture, staircases and other details.
This makes the book both flexible and informative, as The LEGO Neighborhood Book 2 is less about building and more about exploring ideas and how and why they work. It does show some techniques, and it does show you how to build certain things, but these are not the point. Rather, the point is to understand how the neighborhood works together in an organic fashion. Small details like food carts, clotheslines, graffiti and alleyways make it look even more realistic.
Building in microscale
The LEGO Neighborhood Book 2 has a chapter on building a micro city. While not as complex as LEGO Micro Cities (also published by No Starch Press), it's definitely a great addition for those who don't own as many bricks for a larger project.
Note that, unlike the previously reviewed LEGO Micro Cities book, this one doesn't show how to build a whole city in 20 x 20 base plates. Rather, each building or small block will take a 16 x 16 space. This allows for more complexity, but it's still significantly bigger than what you'll find in the LEGO Micro Cities book. Still, it's a cool addition to readers interested in building tiny cities or mixing and matching with friends and other people.
The book
The book's style is quite unique. As mentioned, it isn't an exclusively project-oriented book, showing more ideas and guidelines than precise instructions. There is information about architecture, but also how to build certain interesting objects.
The authors present their city through a comic-style story, where representations of themselves as minifigures walk through their neighborhood and show the places to the readers. Unlike other books, this one has a lot more text. However, it isn't exactly child-oriented, so younger readers might not find it as interesting. The age recommendation is 10+, so keep that in mind.
As with all No Starch LEGO books, this book is full of expertly taken photography and illustrations. These show you the final product and the steps for the projects sprinkled throughout. There is quite a bit of attention to detail. This particular book is very colourful, which fits with the theme of the lively neighborhood you're observing and creating.
Conclusion
The LEGO Neighborhood 2 is a great addition to a LEGO enthusiast's bookshelf, but it's best to keep in mind that it's the second of the series. As such, you won't find detailed instructions nor a deep-down walkthrough of the building process.
Rather, you'll find ideas of things you can add to a city, how they come together, and how to build some interesting details and furniture. You'll also find suggestions meant to spark your creativity, but not a quite begin-to-finish guide on creating the whole neighborhood from scratch. For that, you'll need the first book in this series.
However, this doesn't mean the second book isn't good. Quite the opposite, as it shows how the various buildings work together, what sorts of buildings you might find in a neighborhood, and the different styles and how they interact. A more experienced builder (or people who own the first book) will certainly enjoy this one, as it's full of cool ideas and suggestions.
Summary
Reviewer
Review Date
Reviewed Item
The LEGO Neighborhood Book 2
Author Rating