LEGO has several sets you can play with and even an entire City theme, but the main point of the brand is: you can build anything. This book explores the idea of building micro cities, entire cityscapes contained in a 20 x 20 base plate. Let's check it out.
Book Review: LEGO Micro Cities
We admire sprawling projects that take hundreds of thousands of bricks, yet, there's something special about working in small scale. From robots to Christmas ornaments, we can build practically anything with LEGO, but working in small scales is a challenge on its own.
This is where LEGO Micro Cities come in. This book brings the magic of LEGO to a very small scale — more precisely, to 20 x 20 base plates. Building on such a scale is a challenge on its own, but making whole cityscapes? It's LEGO art at its finest.
What you'll find
LEGO Micro Cities is a part art, part project book. LEGO veteran and photographer Jeff Friesen brings several ideas to light, with incredible builds he proceeds to explain and break down to their component parts. While each project is a world of its own, with different types of buildings and adornments, the whole brings precious information for the reader to build their own.
From alien to futuristic, to cities that look right out of the history books, readers will explore different building techniques and ideas, as well as creative use of common and not so common bricks, and bring entire cityscapes to life. Each project city has its own theme and style, and the book will guide the reader through each building, with the whys and hows easily explained.
Like most project and idea books, each city comes with a list of bricks you'll need. This one also breaks it down per building and foundation (such as riverbeds, subways and parks), which makes mixing and matching buildings and ideas even easier.
From the sweeping lines of Utopia, a build that combines all sorts of round and curved shapes to make a pleasing, futuristic look, to the more browns and greys of the industrial Steamworks, there's a little bit of everything.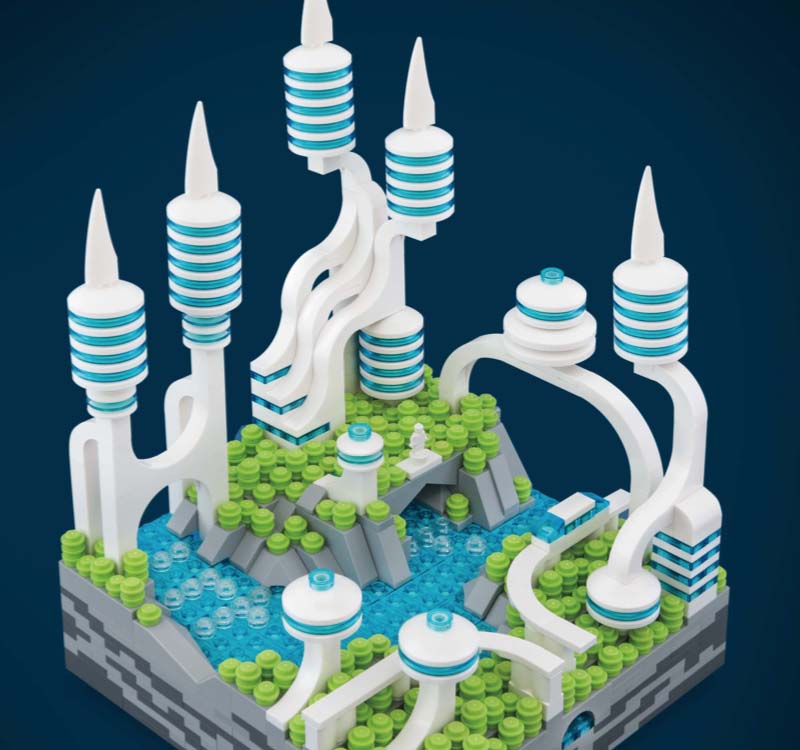 Each city has its own chapter, with additional information on how to build a solid foundation upon the 20 x 20 base plates, and other details such as landscaping, rails and trains. These might be all familiar LEGO concepts, but in such a small scale, it becomes a special sort of challenge. Torch flames become locomotive plumes; transparent blue bricks make for great rivers. Microfigures are great, massive statues and skyscraper decorations on such a small scale.
The book is also clever to give alternatives to some pieces and bits that you may not have, or not want to use. This allows for some flexibility in the designs, as some pieces might be harder to find than others. It also comes with suggestions on how to acquire bricks you may not have but may need for your projects, and how to come with original ideas on your own.
The cities also come with a concept explanation and what they mean to convey — something expertly done through the building itself. Each story highlights the main attractiveness of the design and what makes it unique, as well as how it's done. This shows the creative process — which is always the point, as that's what LEGO is all about.
The book
Beautifully illustrated, the book breaks down each project to its component parts but goes beyond. As mentioned above, there's a lot to learn about creativity and technique, but it's important to know as well that the designs themselves are spectacular. Each city is organic in its own way, with a clever combination of realism and fantasy — just like any real city, they make sense.
The pictures are a fundamental part of that. Showcasing each building and detail individually shows the sheer artistry invested in coming up with such concepts, and details that might've been lost in the whole. Moreover, the clean design of the book eliminates distractions and calls attention to even the smallest choices — such as the pattern in the foundation of Tomorrowland, and the apparent waterfall (or so it looks like) of Upper Brick Side.
The commentary only improves on it, with the thought process behind each building and city readily apparent. This elevates what could be a mere project book ("make these micro cities!") to an actual study of the building itself. Style, influence, and even architecture all play a part in each city — just as they do in the real world.
Conclusion
Beauty and style combine with practicality and entertainment in this book. Reading it is a delight, and exploring the process and imagination behind each micro city is as well. Artists and experienced builders might enjoy the content and the thought put behind it just as much as building them themselves. Even people who are not die-hard fans of LEGO might appreciate the effort and the results — since they're certainly appealing to the eye.
That said, it's definitely not a book intended for a younger audience. Teens and older children with an interest in architecture, as well as adults, will appreciate it more than younger children who will not take as much interest in the choices made to build each city.
The scale is definitely a challenge to builders used to work in grander, bigger projects, and the book definitely shows that small can be just as rich and complex as massive.
Summary
Reviewer
Review Date
Reviewed Item
Author Rating