This incredible book is perfect for people who want to build their own cities and buildings. Unlike other books previously reviewed, the LEGO Architecture Idea Book, published by No Starch Press, has a different approach to building. Instead of showing a project from start to finish, this one breaks down architecture into its component parts. You won't learn how to create one building (or even several). Rather, you'll learn how to build different styles of walls, roofs, and more.
The author, Alice Finch, is a well-known master builder. In her portfolio, we find things such as a full replica of the Hogwarts Castle — one of her most popular builds and a very intricate piece by itself. She's a specialist in architectural builds, and so, a perfect match for the contents of this book. If there's someone who knows what they're doing in making LEGO buildings, it's her!
What you'll find
As mentioned, there aren't specific projects or detailed instructions on how to build a single thing. Instead, the book will show how to build, with ideas and suggestions rather than explicit instructions, all sorts of stuff you'll use to make your own buildings.
This gives the book a lot more longevity and flexibility than a "project book" where there usually isn't much to master beyond the projects included. Instead, knowing the techniques and seeing the different types of stuff you can build, the reader will have a lot of new tools in their toolbox to build whatever they want.
They're a lot of ideas, too — over 1000. The fact they present different aspects of building and architecture rather than individual projects means you can mix and match them however you want, which of course means even more ideas. With all that's offered, it's perfectly possible for the reader to build whatever sort of building they want — or, at least, most of them.
It's important to note that with the massive number of ideas, not all of them are super detailed. The simpler ones are up to the reader's own observations, but the book does include the parts used in a simple build, such as a wall.
This helps the reader identify the parts used, but it doesn't necessarily hold the reader's hand through the process, either. That isn't the goal of the book, after all: it's an idea book. Complete newbies might have some issues understanding certain concepts, but nothing too drastic.
More complex ideas do have a bit more explanation, though, so it doesn't become needlessly cryptic.
The book does refer to the pieces by their numbers, so an accessory guide (there are many online, where you can find pieces by their number) or knowledge of bricks becomes a necessity. Of course, if one knows their LEGO, visual identification is quite simple.
The book
Like all No Starch books, this one is beautifully illustrated with full-colour pictures. They're photographs, making visual identification of the bricks used simpler. As other idea books, this one doesn't have a lot of text. Instead, it shows what it means by pictures with minimal instructions. This, of course, makes it possible to include more projects and easier to skim and find what exactly you need, without slogging through lots of unnecessary text.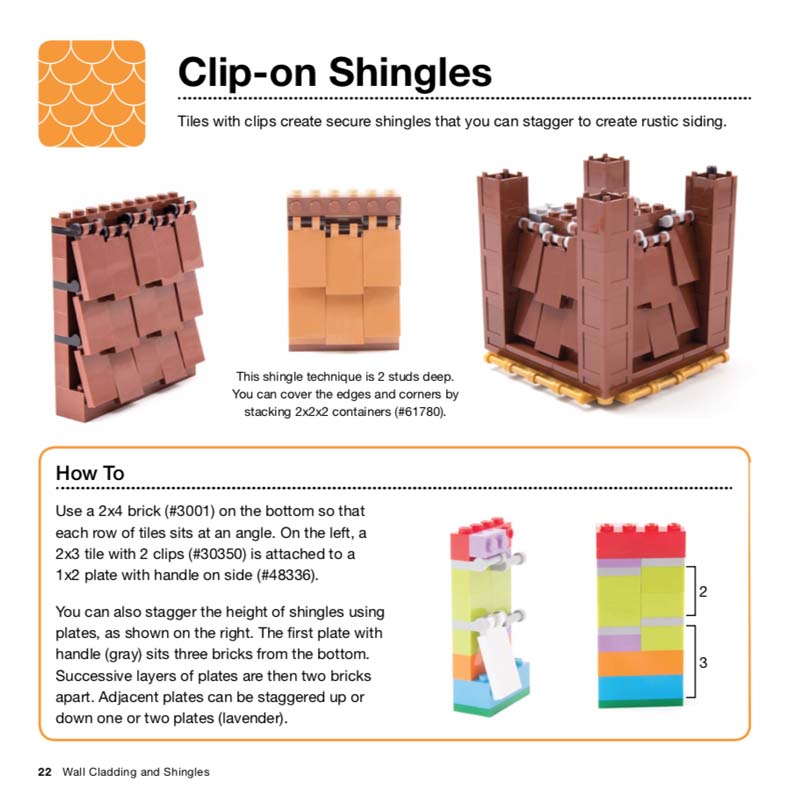 Each chapter has a type of construction element — walls, roofs, windows, among others. That further helps the reader to locate anything they want. The LEGO Architecture Idea Book thus also works as a good reference to have on hand during the building itself. Want to create a curved wall? Just check the chapter on walls, and you'll find it. As well as sidings, panelling, and much more.
The book also includes pictures of some of Alice's own (full) builds, showing how they apply to real projects.
Conclusion
If you're expecting a book full of detailed projects that hold your hand from start to finish, this isn't the book for you. But builders who want a reference on all sorts of architecture points, ideas and tricks, they'll find exactly what they need here.
The variety is excellent and the way it's divided and presented allows for a lot of uses beyond those suggested by the photos in the book. There are no restrictive how-to guidelines, but ideas that combined together can make something truly unique.
Unlike even most idea books, there isn't a clear suggestion such as "you can do this to do that"; rather, the techniques shown are just that — techniques. While it might not seem as useful as a full guide, the structure of the book guarantees you can mix and match things together. Whether it's towers, doors, shingles, windows, decorations, there's a bit of everything when it comes to architecture.
Summary
Reviewer
Review Date
Reviewed Item
LEGO Architecture Idea Book
Author Rating